BOB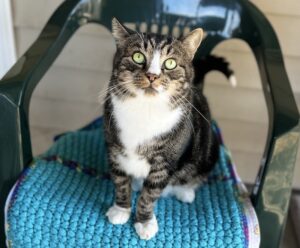 01/01/2018
09/03/2022
Male
Tabby
DSH, bullseye tabby w/ white
MEDICAL NOTE: Bob tested positive for FIV+.
HISTORY: Bob was found as a stray. Unfortunately with his FIV+ diagnosis the people who found him couldn't keep him.
Bob arrived at CFC after being on our waitlist for almost a year. The family that initially found him had grown quite attached to him. Unfortunately they couldn't keep him with his FIV+ diagnosis, as they already had cats in their home.
Bob is still adjusting to his new surrounding and the other cats in the FIV+ room. He is very friendly with our staff and volunteers and loves to be petted. Bob has started making friends with a few of the other cats. Normally you can usually find him sleeping in a corner by himself and if he's not sleeping, he's making biscuits. Bob likes to be brushed but stay away from his tummy! He hasn't shown interest in toys so far.
Volunteer Update October 2022: Bob is really coming into his own and what a joy it is to find him front and center to welcome you into "his" room. This super handsome, very appealing fellow is friendly and affectionate and is a master figure eight dancer. Happily, he will follow you around and eagerly positions himself to make it easier for you to pet and love on him. If you think Bob is photogenic on line, just wait to till you meet and experience him in person!