CHAUNCEY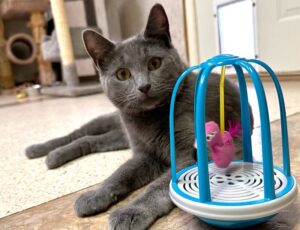 04/01/2022
01/21/2023
Male
DSH; Sleek solid grey coat.
HISTORY: Chauncey was an owner surrender with brother Iggy and mom Mandy. All 3 had been found as strays but with the finder's home already very full with kitties, they felt it would be best to find an alternative safe spot for them.
Meet Chauncey, a recent arrival to the Scratching Post. Unlike his very outgoing brother Iggy, he tends to stay to himself, amusing himself with cat toys or lounging in a comfortable spot.
Chauncey tends to be a little more timid and shy and will sit back and observe the other cats rather than jumping right in to play and romp, though he has started to come out of his shell little by little. Lately he has been joining in with the other cats in playtime with wand/stick toys, he patiently waits for his turn or joins in with no issues, as described by one of our volunteers.
Chauncey is also a little timid and shy with people at first, though when you gain his trust, he is quite loveable and enjoys head and back pets. We patiently await to see his full personality emerge as he becomes more comfortable in his new surroundings here at Caring For Creatures.
Fall 2023 Update: Chauncey's good volunteer friend Scott reports that Chauncey continues to settle in nicely and is doing well. Chauncey seems content relaxing and enjoying both in his room and also the catio area. He does not have any new, specific friends that he hangs out with but he does seem to enjoy squatting and briefly taking over Checker's condo when he's out and about. LOL. Chauncey enjoys getting pets from volunteers and will do his best at playing with the laser dot but tabby siblings, Melody and Valerie typically barge in on his play time and off he goes to self entertain. Poor guy! His bestie Iggy is never far away as he's in the same room and is happy to lend support if need be.