ERIC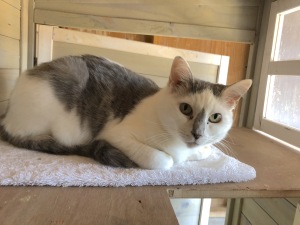 05/01/2011
01/02/2016
Male
DSH- White coat with grey saddle, grey bonnet and grey tail.
HISTORY: Eric arrived as a stray at a county shelter where he has spent the last 3 years of his life living in a dog igloo. Upon hearing of Eric's plight, we opened our doors to help Eric.
For the longest time I was pretty much deprived of all human contact at a kill shelter and I lived a pretty hard scrabble existence. Accordingly I did not learn to trust people, but that does not mean that I'm not gentle and peace loving. I'm totally non-aggressive and I get along famously with my roommates. I thank my lucky stars that now I am at CFC and learning to enjoy the creature comforts that I was denied before. While I still have a wall between me and my caregivers and visitors, I think you can see in my face that I'm grateful to be here. I just need my personal space as I work towards perhaps one day trusting folks. For now I'm living large and reveling in being able to roam about our room and outdoor patio. I adore food and you can find me front and center whenever meals are served or treats are being offered. I keep my distance and veer away from human touches but you can see in my face that that may change as time goes by. In the meantime I'm happy and feel blessed. Whatever the future holds I know that I will be safe, cared for, and valued here. Speak softly to me; I may not show it, but it is comforting. Thank you CFC.