IGGY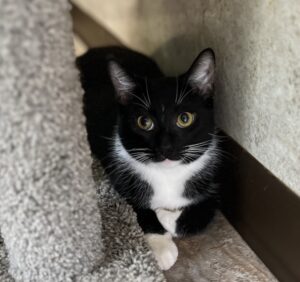 04/01/2022
01/21/2023
Male
Tuxedo
DSH/Tuxedo- Sleek black and white kitty. White chest, white boots and white underbelly area.
HISTORY: Iggy was an owner surrender with brother Chancey and mom Mandy. All 3 had been found as strays but with the finder's home already very full with kitties, they felt it would be best to find an alternative safe spot for them.
In his former life, Iggy went by the name Ignatius, which comes from Latin origin meaning "fiery" and "ardent"! And this surely does describe Iggy, because he is ardent in his affection and friendliness with staff and volunteers. He loves to be on the receiving end of pets and scratches! Iggy is very fascinated with the cat toys in his room at the Scratching Post, batting them around the floor. He doesn't mind being picked up and held, which is a plus for someone who is looking for a cuddler! With Iggy being a recent arrival to the Scratching Post we are still learning about his personality and how well he gets along with everyone. We hope to see more of his affectionate and friendly personality emerge.