IGGY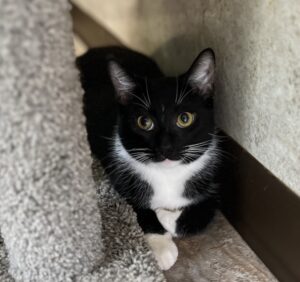 04/01/2022
01/21/2023
Male
Tuxedo
DSH/Tuxedo- Sleek black and white kitty. White chest, white boots and white underbelly area.
HISTORY: Iggy was an owner surrender with brother Chancey and mom Mandy. All 3 had been found as strays but with the finder's home already very full with kitties, they felt it would be best to find an alternative safe spot for them.
In his former life, Iggy went by the name Ignatius, which comes from Latin origin meaning "fiery" and "ardent"! And this surely does describe Iggy, because he is ardent in his affection and friendliness with staff and volunteers. He loves to be on the receiving end of pets and scratches! Iggy is very fascinated with the cat toys in his room at the Scratching Post, batting them around the floor. He doesn't mind being picked up and held, which is a plus for someone who is looking for a cuddler! With Iggy being a recent arrival to the Scratching Post we are still learning about his personality and how well he gets along with everyone. We hope to see more of his affectionate and friendly personality emerge.
Fall 2023 Update: "I like playing with the laser dot, I love being pet and I enjoy the thrill of squatting in another kitties condo if they have vacated it for the day," beams our friendly, silly boy Iggy. Iggy is a happy, well balanced fella who eagerly trots over to say "Hi" as you enter his room. He's done well in ingratiating himself with the others in his room and while he does not have a bestie per se outside of Chauncey, still he's well liked and is never alone. One of our regular volunteers is working Iggy hard with the goal of getting him into his lap and actually making him a lap kitty. This project is still ongoing but definitely in the works. Iggy has no health concerns and is doing great. We look forward to seeing his impish face each day as housekeeping says "Good Morning" when entering his room. What a lovely kitty.