MANDY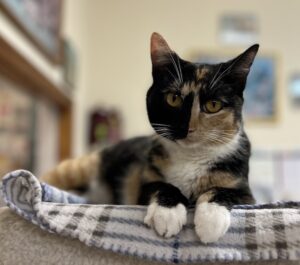 11/17/2020
01/21/2023
Female
Calico
Calico; Tri-Colored, sleek jacketed girl.
HISTORY: Mandy was surrendered along with her teen kittens, Iggy and Chauncey. All three had been found as strays but with the finder's home already very full with kitties, they felt it would be best to find an alternative safe spot for them.
Meet Mandy one of our newer residents to the Scratching Post Kitchen. She is very friendly, although she is also incredibly impish and mischievous, a trait common in most calicos! Mandy is full of energy and loves playing with all sorts of cat toys, though she really seems to enjoy wand toys the most at the moment. She also likes head scratches and pets down her back. Mandy will let you know with a little nibble that she has received enough attention! With Mandy being a relatively new resident to CFC, she is still getting to know her fellow residents in the kitchen. So far she seems to be a bit aloof with them, cautiously watching though not directly interacting with them. We believe she would do well in either a home with or without another cat.
Fall update 2023: As you read Mandy's update, likely she is at her work station at The Scratching Post earning her keep! Most days, you will find Mandy right by the front desk as you walk in, all stretched out with a keen eye on those coming and going. Since our last update, the kitty cast of characters in Mandy's world has changed a lot and specifically, she has a new batch of kittens to contend with. If she had her druthers, she would have more peace and calm and fewer kitties in her world. Alas, still she's super content and is always able to get her human friends to carefully scratch her starting in the middle of her back and working down her spine. She's her usual pretty self and with no emerging health issues, she'll remain at her work space hoping that the next person to come through those doors will take her home.