MIDNIGHT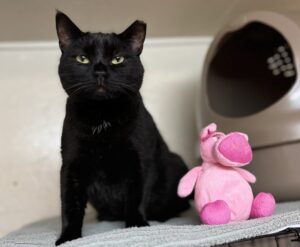 01/01/2018
10/10/2020
Female
DSH, black
HISTORY: Midnight was an owner surrender.
MEDICAL NOTE: Midnight tested positive for FIV.
Small And Sneaky But Oh, So Loving!
You may not see Midnight when you first enter R3. She spends a lot of time on top of the cat condos and outside on the patio. If she hears someone she knows, though, she'll come hustling in to receive all the attention she can get. Midnight absolutely loves head scratches, so much so that she'll stand up on her hind legs if you start to pull your hand away. She's a quirky cat with a whole lot of personality, and we think she'd do well as an only cat or with other cats in the home. She doesn't like to be picked up, which is something we're working on, but she should be easy enough to corral into a cat carrier should the need arise. We've been really happy with her progression in confidence so far, and we're excited for you to meet this spunky FIV+ girl!
Fall 2022 Update: Our petite lady Midnight is a true friend to all. Terrific with all the cats in her room, she really, really loves human laps and if she had her druthers, she'd relax and recline in one all day long! This sweet, peaceful girl enjoys spending time perched up on condos and with the lower temps and emergence of pretty fall leaves, we are finding her more and more outside on her catio. With no health concerns, Midnight is ready to interview for her new pet position and knows she is safe where she is til that time comes.
Fall 2023 Update: Midnight has a major announcement to make! After 2 1/2 yrs, she is now easing down into Volunteer Scott's lap. WOW!! Scott has been slowly and surely working on our petite black velvet girl and wouldn't you know it, she finally succumbed to his desire. He picked her up, placed her in his lap and she stayed!!! Scott is like a proud, beaming parent as she shares this major Midnight milestone. Outside of agreeing to chill in Scott's lap, Midnight is still doing well as a considerate roommate to 14 others in her space. She's healthy and happy and ready to sit back and enjoy all that the pretty fall season has to offer her.