AVA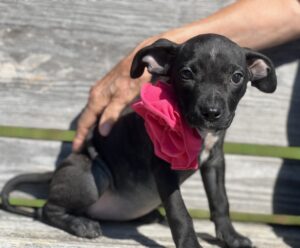 05/24/2023
08/01/2023
Female
Large : Larger than 45 lbs.
Bully Mix
Bully Mix; Sleek black coat with a white chest blaze and smudge on the top of her head.  10lbs on 8/23 and growing!
HISTORY: Ava and her sister, Emma were found alongside the road in a ditch.
Meet Ava, a precious 3-month-old puppy who has already stolen hearts with her incredible story of resilience and love.
Found alongside her sister Emma in a ditch, Ava is proof that even in the face of adversity, a heart full of joy and affection can shine through.  Ava is the calmer of her and her sister, but don't be fooled; she is still a puppy! She loves to rest her head gently on your shoulder when you hold her, a heartwarming reminder that she knows she's now safe and cherished.  With a playful puppy spirit at her core, Ava delights in the simple joys of life. While she might not be a fan of squeaky toys, she finds happiness in exploring her surroundings and discovering new adventures. Her boundless curiosity and enthusiasm for life will keep you entertained and smiling every day. Although Ava may be smaller than her sister Emma, her sweet and gentle nature knows no bounds. She has a big heart and a love for cuddles that will melt your worries away.