DEXTER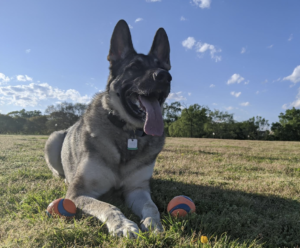 03/13/2017
Male
Medium : 20 - 45 lbs.
German Shepherd
This is a courtesy post. This animal needs a loving home, but is not currently living in our shelter. This listing was posted on August 31, 2023.
Dexter is a beautiful 6.5 year old purebred sable German Shepherd. Please contact one of his caregivers below, if you are interested in welcoming this handsome boy into your family!
Due to a change in his family's living situation, Dexter, the most lovable cuddle bug to ever exist, is looking for his new forever home with a loving family. Dexter is a big boy, with an even bigger personality, who loves belly rubs, ear scritches, and using his people as his own personal bed. Dexter would do best in a home where he is the only pet, and with a family that has the time and energy to give Dexter the active lifestyle he deserves. Dexter is a big dog, so he needs his primary caregiver to be someone who is able-bodied and strong enough to handle a dog of his size. Dexter has received some training, so for the most part he does well with his walking behavior, but he can let his excitement get the best of him, resulting in some pulling. Additionally, Dexter does deal with some leash reactivity, especially to dogs in the immediate vicinity of his home (and cats just about anywhere). Dexter does, however, do wonderfully off leash at the dog park! He mostly prefers to keep to himself, so he can focus on his toys (he could chase his ball all day if given the chance!), but every so often he'll join a chase with the other dogs. Due to a couple high-stress situations, Dexter has mouthed at hands before, but according to a trainer we've spoken with, he shows great bite inhibition, and he's never broken the skin. These situations were both extremely stressful situations for Dexter and complete outliers from his usual, gentle temperament to the ones he loves. Dexter has done well with children in the past, but it's been a while since he's been around kids, so he would do best with kids old enough to understand and respect his boundaries, especially in the early stages. Dexter does tend to be shy around new people, but with time and effort from somebody willing to be patient and respect his boundaries, Dexter will get comfortable and be your best friend. The exception to this is the vet, as Dexter is not a fan and has a lot of anxiety around visits to the vet. This issue has been addressed with anti-anxiety meds, but because of Dexter's size he's still a lot to handle in these situations. However, if his adoptive family is interested, Dexter's current family is willing to pay for three training sessions with Ashleigh Morris, an incredible trainer with No Place Like Home Pet Services, to help build Dexter's confidence and help him adjust to his new forever home and family. Ashleigh offers services in Central Virginia, so if the adoptive family is from outside of this area, another trainer that uses positive reinforcement (no e-collar training will be considered) can be used! Dexter is fully house-trained, and he has no destructive tendencies when left alone. He is not crate trained, but he spends most of his time sleeping, while his humans are out of the house, so this has not been a problem. Dexter does well on car rides, when the windows can be down, as he loves sticking his head out the window and letting his slobbery tongue flap in the wind! He can get a bit restless on longer drives that don't allow for windows to be open, so he would do best in a vehicle with a good sized back seat. Dexter is neutered and up to date on all his vaccinations. He is also on flea and tick and heartworm preventatives. His family will also donate a 10×10×6 foot chain link kennel, extra large dog house, food and water bowls, and any remaining food at the time of his adoption to his new forever family. Dexter's current family would prefer for him to be transitioned into his new home over a couple visits, to allow Dexter to ease into his new surroundings. Of course if his new family is not local, a different approach can be taken. If you're ready to start coming home to a sweet, lovable cuddle machine, who will never make you wonder if he's happy to see you, please reach out to the contact below!
Kirsten Kao:
Phone: 540-836-8320 (unable to access voicemail at this time, so if the call is missed please text or email to set up a time to talk!)
Email: kjdolack@gmail.com
Brian Kao:
Phone: 757-897-9415
Email: bryankao3@gmail.com
Adoption fee is $50 paid as a donation to Caring for Creatures animal shelter in Palmyra, VA.