HANK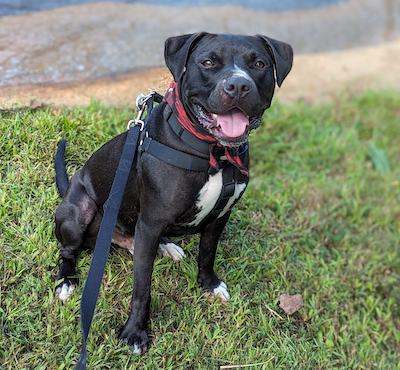 04/19/2023
Male
Medium : 20 - 45 lbs.
Bully Mix
COURTESY POSTING ONLY. PLEASE CONTACT CAREGIVER BELOW!
Get ready to fall in love with Hank! He is 1 year and 7 months old, weighs about 57lb, and will gladly join you on any adventure. Hank's enthusiasm is contagious, and his joy is evident in every wag of his tail. Heading out? Hank is the perfect sidekick. He loves to be where his people are, even better if that includes a ride in the car. And when Hank has to stay behind, as long as he has a window to look out of he is a happy fellow. Just be prepared for a lot of kisses when you get back (even after a quick trip to take the trash out).
Hank is fully house trained, up to date on vaccines, and good with kids. While he could be a great fit in a home with other dogs, he would do best in a house without cats due to his curiosity, energy, and interest in playing. He has no problem sharing toys and treats with his furry friends. He is not particularly food motivated, praise and belly rubs are his love language and motivators!
Hank is fearless. Thunder? Fireworks? Sirens? Not a problem for this brave boy! Strangers? Never heard of them. Hank is always on the lookout for a friend, and if that friend happens to be a canine companion ready for some roughhousing, he's all in. He is playful, goofy, and energetic, but ready to nap by your side after he gets his zoomies out!
If you're seeking a furry friend who exudes happiness, embraces life's adventures, and is ready to be your loyal companion, Hank is your guy. Not to mention the adorable white paws! Reach out to learn more about this lovable pup and to set up a meeting with your potential new best friend!
To learn more about Hank, please reach out to Kendall Madigan at madigan.kendall@gmail.com or (434)962-9988, or check him out on Instagram @pardonmyinteruffion.