LUCKY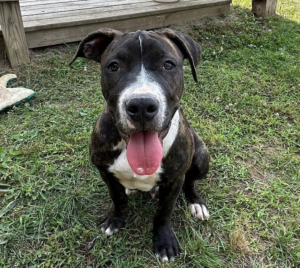 02/13/2023
05/20/2023
Male
Medium : 20 - 45 lbs.
Bully Mix
Bully Mix; Sleek dark brown brindle coat; white blaze, white tipped feet, white muzzle and thin white racing stripe running up his face. 27lbs on June 3rd, 2023.
HISTORY: Part of a litter of 9, Leroy, Logan and Lucky took sanctuary here when the local family could not quite rehome the whole litter.
Need a puppy fix?? We have JUST the pups to fill your need! Check out our freshly minted bully mixes who are ready to head on home. Originally from a litter of 9 pups, the local family who surrendered them to us could not rehome everyone so we'd like to think they saved the very best for us! These very social, playful and interactive pups have had amazing human contact since they were born and are graced with very sweet, gentle dispositions. They love, love to run and play and romp and then crash and will actively seek out us humans for some great snuggle time. Should you sit for a spell with LEROY, LOGAN and LUCKY, please plan on getting swarmed and having kissy pups draped all over you!! Leroy is the smallest of the 3 (by 1lb) and he's the most chill of the group. Logan is more of a follower and tends to go and do whatever everyone else is doing. Lucky is the leader of the trio and also the largest (perhaps he leads everyone to the feeding area??) LOL. These silly, goofy pups are already great on the leash and can't wait to share their individual pet styles with YOU! Imagine the fun you will have guiding these amazing little guys to perfect pet skills and uncomparable canine citizens. Sound like your kind of new summer endeavor? If so, let's hear from you.