RALEIGH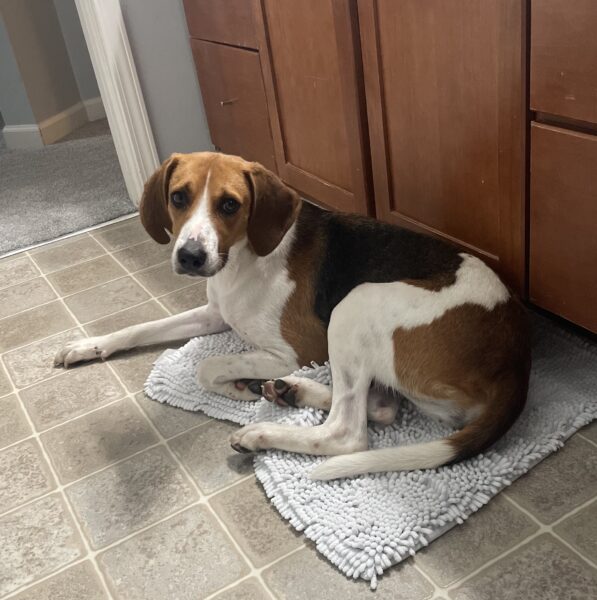 01/01/2022
Female
Medium : 20 - 45 lbs.
Foxhound
This is a courtesy post. This animal needs a loving home, but is not currently living in our shelter. This listing was posted on July 30, 2023.
Do you work from home? Do you often find yourself reaching out to pet a dog that isn't there when you are on a video meeting that could have just been an email? I may have found a solution for you.
When her current owner saw this beautiful girl for the first time she had been abandoned on the side of the road. When her human pulled over, Raleigh immediately ran up to her and began kissing her face. Raleigh may have had a rough start to life, but she has not let it shake her faith in people! She wants nothing more than to be by your side.
Raleigh has never met a stranger. She loves all people she meets, and this includes children of any age. She has also done well with dogs and cats. She truly is a social butterfly who wants to share her snuggles and kisses with anyone and everyone she comes across! Apart from meeting new friends, she loves cruising in the car to get a pup cup, eating all the peanut butter she can find, Kong toys, and getting her afternoon nap in. Going for a long walk or a hike is an adventure she will always be on board for! There is no better hiking buddy than a dog. A home that has an outdoor space for Raleigh to run off her zoomies on days that you are not hiking would be best for this girl.
Raleigh unfortunately suffers from separation and confinement anxiety, and needs someone who is home with her most of the day in order for her to feel comfortable. When Raleigh is left alone, she will try to escape or chew things around her due to this anxiety, or escape the crate she is put into. However, her current owner has been working with trainers and her vet in order to get past this issue with her. Her current owner has only had her for about 6 weeks, but sees Raleigh having great improvements with this issue if someone has the time during the day to be with her and work on training further.
Raleigh is a Foxhound, about 1.5 years old and 41 pounds. She is not currently spayed, but is up to date on all of her vaccinations. If you are someone who needs a cheerleader to get you through those work from home days, or someone who needs a buddy to spend your retirement with, Raleigh may be the girl for you!
To inquire about this loving girl, please contact Kat Young at (720) 251-9561.