ABBY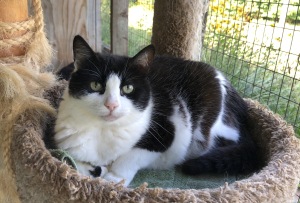 01/01/2012
11/09/2013
Female
HISTORY: Abby was trapped at the end of the CFC driveway where she had been living with a colony of cats.
PBS fans who love Downton Abbey just might adore a certain Downtown Abbey, ME! Well, in the interest of accuracy I'm not a downtown girl but I did come from a country version of life on the mean streets. I have adapted to the good life at the sanctuary far faster than anyone expected but I am still gently bashful and will be shy when first we meet. My fur is impossibly soft and I'm cute as a bug from my sweet pink nose to my glossy black tail. If you're patient with me I'll reward you with tiny little kisses, enthusiastic head bumps, and kneading paws; I might even break out into my joyous Abby dance or flop before you hoping for even more pets and caresses down my back. I'm petite and demure, loving all fellow creatures both feline and human. If you have room in your heart for a nattily dressed, warmhearted little girl who has all the makings of a devout and loyal lifelong companion, I'd love to meet you and get our friendship started.
Fall 2022 Update: "I'm a pretty solitary, quiet girl and enjoy finding the perfect chair on the catio draped with the perfect fleece for my comfort," explains our tuxedo lady Abby. It's true that you are likely to find Abby in a chair on our catio. She is not a very active cat with a decade of pet experience under her paws, she finds contentment where less is more. Abby is a friend to all in her room with no particular best friends. She's never really alone as other kitties find comfort in sharing space near and around her. Abby does not have any emerging health concerns and looks forward to enjoying the fall leaf show and cooler temps.
Fall 2023 Update: Approaching 11 yrs of age, our pretty black and white lady Abby is showing some signs of her age as she slows down and her coat of fur gets a bit more wiry in its texture. Like any self respecting kitty approaching senior status, it's important to find that perfect perch. To that end, a volunteer fondly referred to Abby as The Queen of the Adirondack Chair as she snoozed away the summer days in this preferred location on her catio. Abby continues to coexist with the others in her room not really having any best friends and likewise not really having any enemies. She just goes with the cat flow! Outside of her natural settling into older age, Abby is healthy and happy and we'll look forward to seeing her settling in her pillow laden chair and enjoying the fall color show and cooler temps. You go girl.