ALFRED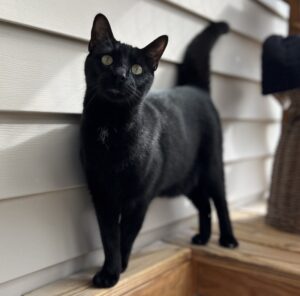 08/01/2019
11/11/2022
Male
DSH, black with a little white on his chest
HISTORY: Alfred was surrendered when his owner passed away.
When Alfred arrived at CFC he was very scared and shy huddling in the corner of his condo. He has since become quite the vocal fellow seeking attention from staff and volunteers. Alfred is good with people but can become overstimulated after some time. He likes to be petted and will let you know when he has had enough! He likes playing with cat toys. He also really loves his food!! Alfred spends his time out of the condo, in the Scratching Post Laundry Room where he gets free reign of the room giving him a break from the many kittens in the kitchen. Alfred seems to prefer his solitude to interacting with the other cats of the kitchen. He may be better suited to a home with no other pets since he seems to prefer his time alone. Could Alfred be the right cat for you?
Volunteer Thought November 2022: Alfred is one hard working fella. This handsome guy has set up camp in our main laundry area and the work there is long and hard, but the perks of seeing staff coming and going all day certainly makes him smile. Alfred was pretty shy upon arrival and when we determined the other cats were not suiting his style, we found the perfect spot for him. Alfred is a friendly, affectionate guy who will seek you out when you enter his room. He enjoys his catnip toys and also the classic laser pointer. He seems a little bit sad in not having his full time human so we are hopeful his new person will soon come along and take advantage of his gentle, thoughtful pet style.
Volunteer Thought February 2023: By far ALFRED has THE most posh set up for kitties here at the Sanctuary! This handsome hunk works tirelessly in our laundry room area and when he needs a break, he can nicely exit through his cat door to relax, sunbathe and catch some fresh air on his own private catio area! Alfred is a super sweet, very friendly fella. He's not a true fan of sharing his space with other kitties, so this area seems to nicely suit him. One on one, Alfred will dance a very intricate figure 8 around your legs hoping you'll bend over to give him some pets and overall attention. He's ok being picked up but perhaps from his perspective only for the purpose of being relocated to another perch. LOL Since our last check in, Alfred seems more content and has adjusted well to his new pet position. He's an affable, good natured guy loaded with terrific pet skills. At times when he is in the laundry room area, we can see him calmly sitting in the window of the door to the room, hoping to lure in another human to keep him company. Might that person be you?