ATTICUS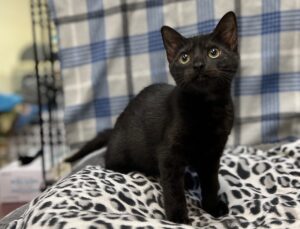 06/28/2022
07/19/2022
Male
DSH, black
HISTORY: Atticus is a stray from a cat colony on Shores Rd.
This Mighty Little Man Is Full Of Energy And Ready To Play!
Atticus was brought to CFC when he was about three weeks old, along with his sister Jean, they were very tiny and sick. Unfortunately, his sister passed away within days of arriving, but this little kitten is a fighter and he pulled through. Atticus is full of energy and loves to play. He can be found tossing around his toys in his condo or curling up with his stuffy. Atticus loves attention, he greets all his visitors at his condo door with lit- tle meows and reaching for pets. He was recently moved into the main office so he can receive more socialization with people, he is a little feisty!! If you are looking for a very playful kitten, look no further, Atticus is that!
Update November 2022: Atticus is now a resident in the Post Kitchen. Having other kittens to socialize with has calmed some of the feistiness in him! Atticus spends his days exploring the kitchen, playing with the other kittens, and batting around the many cat toys laying around. He is friendly and likes to be petted. Atticus will let you pick him up, though he may want down quickly. If you are looking for an inquisitive, friendly and playful furever friend, visit our site to schedule a visit with Atticus!
Update March 2023: Meet Atticus, a resident of the Scratching Post, who has come a long way since he arrived last summer. He is bursting with energy and loves playing with the many cat toys in his room and occasionally the other kittens in the room. Though it appears that Atticus prefers his playtime solo, batting around toys here and there, climbing and romping around on cat trees, and investigating his surroundings. Atticus is friendly and likes attention from people. He also likes to be petted and he will let you pick him up, though he prefers to have his feet solidly on the ground!. Atticus is one of those cats who can be easily overstimulated when you are petting or playing with him. Brief petting sessions suit him perfectly! If you are looking for an inquisitive, friendly and playful furever friend, look no further. Atticus is all of those combined!