BANDIT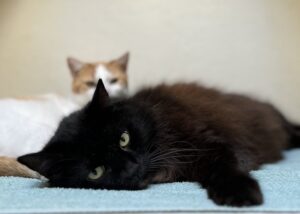 01/01/2010
06/07/2014
Male
Domestic long hair; Solid black
HISTORY: Bandit is a driveway kitty from Sanctuary Lane.
For now trust is the big issue with me. As a "driveway kitty" my exposure to humans was limited and not always positive so my new life here at the sanctuary is taking some time to adjust to. As I gain assurance I hope that I will learn to enjoy receiving affection from people. I have learned to entertain myself playing with the toys in my room. I've been described as a big kitten with the way I run laps around the room with reckless abandon. I play nicely too with the other cats, particularly Wyatt and Jett. Two of my favorite volunteers, Candy and Ed, even managed to pet me while I was in a cat tree. I couldn't help myself and began kneading with my paws. There's hope for this boy. I'm quite shy but within resides a sweet and gentle guy.
Fall 2022 Update: Bandit is his usual ol' self. We can see him "smiling" at us from afar….AKA…hissing and guiding us to give him some space! He is still just as handsome and super fluffy as usual and seems content so long as we steer clear of him! LOL. A bit of a creature of habit, typically Bandit can be found outside on the catio catching some rays of sun or wafts of wind in his fur. He gets along great with all the other cats in his room so while he's lacking in his human social circle, he gets his socialization fix with the many felines at his disposal in his room. With no emerging health issues, Bandit looks forward to cruising into the fall season with the cooler temps and pretty, colorful display of leaves. He's a one of a kind kitty and we're honored to have him under our care.
Fall 2023 Update: Our super fluffy, handsome hunk Bandit is a creature of habit. He's still not a fan of us humans. We often see him flash his long white teeth at us as he gives us a deep hiss of "stay away from me please." Lol. Mr Bandit had a great summer with us humans leaving him mostly alone. He truly seemed to enjoy relaxing and hanging out in a 2 level "house" of sorts with one of his closer kitty friends, Sadie. Bandit is content as content gets and with no emerging health issues, he's on target to get the most out of the pretty fall season.