BIRDIE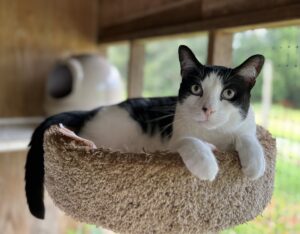 01/01/2016
11/09/2018
Male
DSH- Sleek black and white coat. White legs, chest and belly area. Black saddle, tail and cap.
HISTORY: Birdie found himself in need of a new home when he was no longer getting along with the other cats in his home. When welcomed him to our Sanctuary when space became available.
Did the name Birdie come first or did the cat tree? Ahh, that is the big question for which no one really seems to have an answer. Our good friend Birdie is almost perpetually hanging out in the top of the cat tree to the left of the door as you exit to his patio area. A Bird in a tree, right? To the left of him, you are likely to find his sweet, quiet confidant Willow, the tabby cat. Birdie will happily give you head butts and then gracefully hop on down to sashay figure 8's in between and around your legs. He enjoys laps, being held and loved on BUT the key is that he needs to know you! Staff and longer term volunteers gush about how fabulously loving and affectionate Birdie is. He has quite the fan club of admirers! He really does love his people, but he needs a bit of time to get to know you. Birdie has done well with the other cats in his room but does not seek them out per say and can act as a bit of loner around most of them. He quietly goes about his daily business and slowly builds his fan base hoping soon to find that one person who wishes to be his new, full time friend.
Update Summer 2022: Birdie is quite the big boy, not chunky, just long and tall. He likes looking out at the scenery on the catio, probably a Birdie watching other birdies!! If you crouch down and let Birdie approach you first, that's the first step in making a new friend as he is quite shy around new people. Once he gets to know you, he lets you pet him especially enjoying pets on his head and ears. If you sit down he will rub on you as he walks around you. Birdie tends to shy away from loud noises and fast movements. He is also still a bit of a loner and doesn't seek out the attention of his fellow companions in the room. We would suggest a home that is quiet and easy going, with no small children, and maybe one other kitty companion.
Update Fall 2022: "Birdie is my buddy," explains Cat Volunteer Scott. "He immediately comes trotting over when I enter his room and then when I'm seated, he circles around me looking for some love and attention. If only I had more arms to give him even more pets." Certainly, it's heartwarming to hear one of our volunteers gushing about one of our residents. In a room where several of the cats are a bit shy, it's easy for Birdie to stand out and collect all the attention as folks come calling. Birdie has become more anxious around his roommates so we are tinkering with different meds to help curb his anxiety. He's been particularly bossy when it's communal feeding time so he's put into his condo during this time frame and also for overnights. Birdie looks forward to enjoying the fall color show and the cooler temps.
Update Fall 2023: Our good friend Birdie has surely been tested over the last couple months as some newer and very much younger kitties have been added into "his" room and "his" space! The good news is that Birdie has not been too much of a bully to teen "sapling" kitties, Oak, Elm and Ash in part because he's finally taking his calming meds and we also think he might be a bit scared of their erratic behavior! Coupled with humans on hand to help redirect him and keep him content with one on one attention and plenty of pets, he's been overall a good boy! He's earned as good a report card relative to his behavior as we can remember. Lol. Birdie is healthy and with no emerging health issues, we'll look forward to him enjoying the delightful fall temps and perhaps an even higher degree of tolerance with his new roommates. You've got this Birdie!