BUCK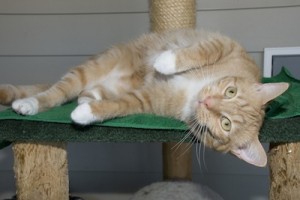 02/03/2007
10/22/2010
Male
HISTORY:
Due to circumstances beyond their control, Buck's guardians could no longer care for him.
MEDICAL NOTE: FeLV+
I'm the very embodiment of the happy go lucky, social, and spunky orange tabby boy. Nothing gets me down and I adjust quickly to just about any situation. What I do insist on is lots of Buck loving and attention. I am the life of any party, playful and just full of myself. Come into my room and I'll greet you enthusiastically, anxious to strike up a friendship and perhaps a life long love affair. Soft as down and sweet as the orange sherbet color of my fur, I'm just the best of companions and friends.
Hi everyone – my name is Buck, and I am what you would call a "smooth operator." That's right – take a moment and think about the song because that is me to the core. You walk in my cat room and "Bam," I am there, making moves on you left AND right!

It's true – I have been breaking hearts all over Albemarle and Fluvanna counties for the last four years. I have been in three homes since I was kitten, but I can assure that it was by no fault of my own. Between you and me, it has been pretty hard, but I don't like to show my sensitive side all the time. There are too many adventures to be had. I just keep my spirits high and go with the flow!

So I guess you are wondering what happened to me, and although it brings back some bad memories, I figure I should give you the whole story. After all, relationships ARE built on trust…
My first owner could no longer care for me, so she brought me to Caring For Creatures. Then I made TWO people at the sanctuary fall for me, but I couldn't stay with either one of them. The first moved and could not take me, and the other had a daughter who turned out to be allergic to me.

So here I am, back at the sanctuary for the THIRD time – breaking hearts and making people fall in love with me day in and day out.

I am one handsome orange tabby with golden eyes, and white on my chest, belly, legs, and paws. My outside is almost as awesome as my inside. I have one of the most laid-back, easy going personalities that you will ever meet, but I also love to play, and to snuggle.

I told you – I am the best catch around. And although I might have broken a few hearts here and there, I am ready to be loyal to YOU and YOU alone!"
February 2021 update: Though he's well into his senior citizen status, Buck is by no means done breaking hearts! He's less active than he was during his younger days and has become more of a couch potato. With playing pretty much cleared from his schedule, all Buck really wants to do is snuggle! He is one of CFC's most relaxed, loving cats and can often be found curled up in a cozy corner, waiting for pets. On warm days, Buck enjoys spending time in the sun on our enclosed porch. He gets along well with his fellow cats in the FeLV Observation room and is particularly fond of his fellow orange tabby Copper Joe. Buck would make an excellent companion for lazy days spent sleeping in, but even if you live a more active lifestyle, Buck is happy to nap on his own until you're ready to join him! Because of his FeLV+ status, Buck cannot live with other cats who do not share his diagnosis. Dogs, on the other hand, are completely fine, and Buck's favorite type of animal is humans! If this sweet older boy sounds like a welcome addition to your family, submit an adoption application today!
Fall Update 2022: Buck is such a nice, pleasant fellow. This guy is always open to welcoming folks into his room and in particular he'd love for you to please come on out and join him on his catio. Buck has a newer buddy. His name is Sonney. It's heartwarming to see the two of them sharing close quarters to each other enjoying the cooler outside temps and the beginnings of a fall color show.
Fall Update 2023: Buck is a hard working cat. He is what we might call the "balancer" in the room as he slowly maneuvers around helping to keep the peace and perhaps even resolve kitty disputes! We can count on Buck to greet us humans as we enter the room and in return, it's always appreciated if we give him some pets on his head and body. One of the most pleasant natured kitties, we can count on Buck to help newer arrivals to his room to settle in and live their best life. Buck is doing well health wise and has no new health concerns. He continues to be a joy to have under our care and we'll look forward to seeing him outside on his catio taking in the fall color show.