CARSON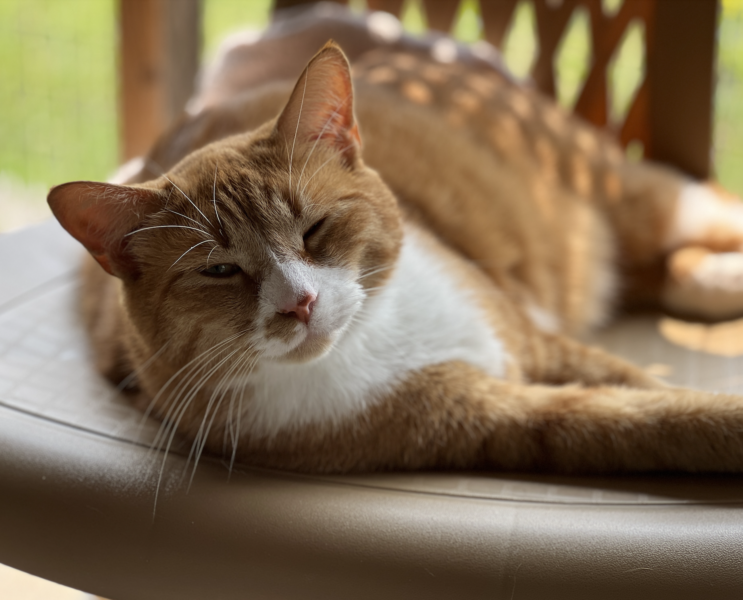 06/01/2021
07/02/2022
Male
Tabby
Tabby- Orange coat with white feet, white bib and white around the mouth.
HISTORY: Carson was found as a stray near Zion's Crossroads. He was trapped and brought in by CFC volunteers.
Carson is one handsome fella. Besides his striking white bib & front paws, it looks like an artist took a paint brush and put the finishing touches on him with an orange stroke on his muzzle & chin. Just like a painting, he is an artistic work in progress. His journey to CFC started off when a volunteer noticed him lying down a dirt road looking completely lost. Each day the volunteer would visit there he would be lying in the same general area as if he had no clue what to do with himself.
When he first arrived at CFC it seemed he still did not know what to do with himself, but after transitioning into a room with other cats he seemed to find his footing. He ab- solutely adores being around the other cats and that has given him the confidence to show us more of who he is. He is now seeking attention by approaching human visitors to his room. Rubbing against their legs & enjoying gentle strokes on his fur as a result. Although it is currently on his terms, we are sure with a little time he will transition fully to the total love bug we know he truly is. He is a lovely boy coming into his own that brightens his room & brings joy to the other cats alongside which he resides.