CERA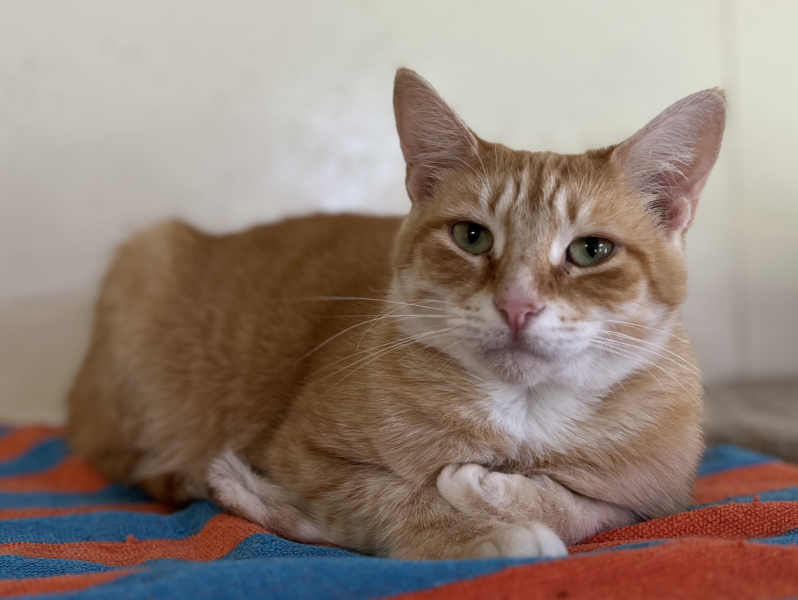 04/20/2019
06/07/2019
Female
Tabby
Orange Tabby; White around mouth and neck area.
HISTORY:
Cera was trapped with her sibling Hermione (adopted!) in a local colony of cats and together sought refuge here at CFC.
The key to my heart right now is having a cat or other cats to help me be at my best. When I see staff members or longer term volunteers coming my way, I will happily hop down off my condo perch and glide towards them to welcome them into my space. I am a sweet, gentle natured lady but losing out on some key early on socialization as a baby has left me a bit shy and uncertain around strangers. Once I know you, you'll see I have a playful, fun side to me that will quickly have you coming back for a second helping of wonderful me! If you have time and patience and an extra cat or two, I'd love for you to consider me. Even if you don't have other felines, I'd be happy to hook you up with my super best friend Fred (he's next to me in some of the pictures) and in no time, we would all be best of friends.
Update Fall 2022: "I prefer calm areas and less is more in my book," explains our pretty lady Cera. Our very quiet and shy friend Cera is healthy and has no emerging health issues as we head into the fall. While Cera has a very limited human friend base (you might be able to pet her on top of a condo – but maybe not- depends on the day! LOL), she is never without feline friends by her side. It's not usual for example to find her with besties Larry and Isis as the 3 of them groom each other and head butt each other. A very peaceful lady, we are the lucky ones to have Cera under our care.
Fall 2023 Update: Cera has a new tag line from one of her volunteer human admirers, "Synchronized Snoozer." Like most kitties, Cera excels at napping but our cautious lady more and more is apt to be intertwined and sharing body heat with her good friend Casey. Casey, also a more shy girl, and Cera are rarely found alone and what a joy it is to witness the comfort they find in each other. Cera is almost never spotted off the top of a condo but we know she's getting down as she's maintaining a more robust physique and getting in some good snackin'. Healthy and happy, Cera goes about her daily business with Casey by her side and wants for nothing. Content and quiet, we're honored to have her under our care.