CHARLIE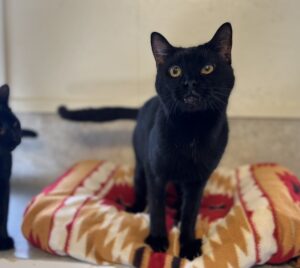 06/01/2021
07/22/2022
Male
DSH- Sleek black velvet coat.
HISTORY: Charlie arrived as a stray from Fluvanna SPCA. When he tested positive for FeLV, we agreed to provide a safe spot for him.
MEDICAL: Charlie tested positive for FeLV.
When Sir Charles first arrived at the sanctuary he was, to put it mildly, far from an immediate hit. Any attempt to communicate with or to touch him was met with hisses and a face that clearly said, "Don't you dare!" In spite of that there was something very endearing about him. So, he got lots of soothing words. He also proved to be quite the foodie and some special foods and tasty treats surely helped him to realize that this new home was going to be OK after all.
His first pets were a bit of an adventure but those first tentative touches have evolved into full blown neck scratches and body massages. In fact he now loudly and persistently asks for attention. He doesn't take no for an answer. Recently he even stepped into a volunteer's lap where for a too brief while he gave a flurry of head bumps and happy purrs. He's not yet a lap cat, but he seems headed in that direction.
Our long legged boy has come so far and is now one sweet boy. Love you Charlie- keep up the good work.