CINNAMON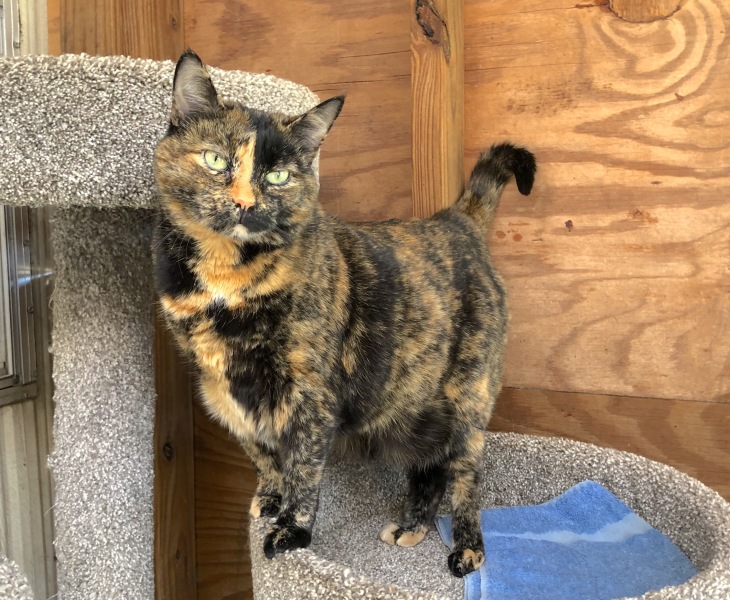 10/01/2015
02/06/2019
Female
DSH, brown and orange tortoiseshell.
HISTORY: Cinnamon was an owner surrender.
MEDICAL NOTE: Cinnamon tested positive for feline leukemia virus.
Looking for a spunky girl who's full of personality? Look no further! Cinnamon spends her days in our FeLV+ Observation room and prefers to be outside on the enclosed porch. She will greet you whether you enter the room or even just walk by outside. Cinnamon also loves dogs, particularly our office dog Bella. Whenever she sees her, Cinnamon rubs up against the netting and meows to get her attention. She can be a bit particular when it comes to where, when and for how long she would like to be pet. These regulations change daily, so you'll have to visit her every day to stay up to date with her latest petting preferences. Though she has a pretty busy schedule I'm sure she'll be able to squeeze you in.
Fall 2022 Update: Who's the prettiest girl? If you answered Cinnamon, you would be correct! Cinnamon continues to be a good girl and more recently, she welcomed a new kitty to her room, Sonney. Sonney is a good addition for her as she can be a little bit of a queen bee at times and Sonney is just as passive and chill as they come. Cinnamon enjoys her outside catio very much so it's pretty unusual to ever find her lingering inside. With her softly sashaying hips and figure eight dance on one the mid-height shelves outside, you'll be tempted to pet her but beware! She is tolerant of your love and affection to a degree but you're apt to get a fast swat, swat from her at some point if you overstay your affections towards her! LOL. We enjoy our pretty lady and with no emerging health issues, she's on a good track to sit back and enjoy the cooler fall temps and colorful fall leaf display.
Fall 2023 Update: Cinnamon hasn't blown it, yet!! When we last spoke, Cinnamon was lightly embarking on a relationship of sorts with roomie, Marble. Generally, Cinnamon is a loner and not looking for companionship so imagine our surprise when she started to reach out to Marble. Fast forward a few months and yes, they are still friends! LOL. On another note, for a bit, strange things were happening in Cinnamon's room. Staff was finding chairs that are normally flush against the wall, in the center of the room first thing in the morning. Was it a poltergeist at work OR was it Cinnamon at work? Turns out it was the latter! Cinnamon is rubbing her chin, head and face so hard on the chairs, that she is literally moving them everywhere! Our busy girl continues to be super healthy and perhaps moving the furniture around might even aid in her longevity. In any event, she's doing great physically and mentally and ready to take a front row seat to welcome the lovely fall weather.