CONSTANCE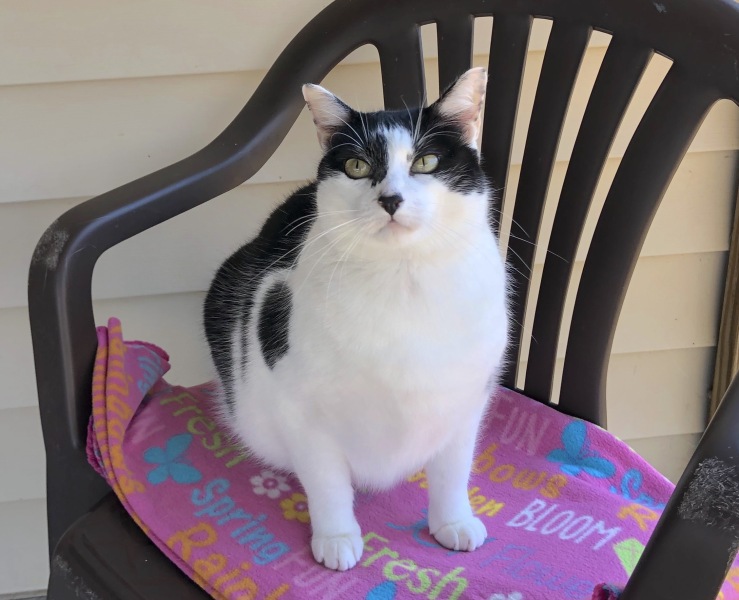 11/01/2018
10/01/2020
Female
DSH- White coat and a black cow pattern. Black "heart" on the tip of her nose!
HISTORY: Constance was found as a stray in a county with a high kill shelter. She was initially taken in for fostering when her foster mom learned she was pregnant. She had a litter of 5 kittens end of July. The kittens tested negative for FIV+ early winter and have been rehomed. We accepted Constance into our program as she was out of options.
MEDICAL NOTE: FIV+
Super detailed bio info from her foster mom. Read and enjoy and then ask to come and meet this spectacular lady:
Constance is a lovely cat. She is calm and sweet and carries herself with a flair of sophistication. She glides around gracefully and never seems to be in a hurry. She is beautiful and she is smart. She is content to spend most of her day lounging in the warm sun and tending to her five little ones. She has been a great mom to her babies. Even as she weaned them, she was never harsh and just moved away when they tried to nurse. She is quiet and gives the sweetest little "purring/chuffing" sound as she calls and checks to make sure the babies are not into too much mischief. We believe that she is about 2 years old. Her teeth are in really good condition and health wise, you would never suspect that she is FIV positive. Her eyes are big and bright and she has the cutest little black heart on her nose. She LOVES to eat and waits patiently for her wet food and her dry food. She was very thin when we first got her and we made sure to feed her well as she prepared for the kittens arrival. She is still showing some of her "baby weight" and we have to watch just how much she does eat. We feed her Purina brand kitten chow (because she is still with the kittens) and Purina pate cat food (mixed grill flavor) and she likes both. She doesn't play much with toys and tends to just want to stay close by to wherever we are. She lets me hold her but I think she prefers, like most cats, to just be by you. She gives the sweetest "head hugs" as I lean in and we touch foreheads together. She purrs with contentment as we greet each other. Her bright eyes make me smile and when she gives me her head hugs, it just warms my heart. We've fought hard for her and her little ones and I want so badly for this sweet girl to have the best life that she can. We still have her babies, who just turned 8 weeks old on September 29th, with us. Our first test of the kittens last week showed FIV positive for all five. It was a huge disappointment, but I know there is still hope that they won't be, so we will try again to see. Constance is an incredibly sweet girl and I know she will make a wonderful companion for someone looking for a laid back feline friend.
Volunteer Update Dec 2020:
Sweet Constance is front and center and nicely trots over to come and say "Hi" to us when we enter her room. She is less thrilled in sharing her space with lots of other kitties but she is learning to co-exist and eagerly awaits for a human to come her way so she can give and receive some TLC. She will hang out in our laps for a short period of time but seems (like many cats) to be a more content to simply lay near you and accept attention from you. We are fixated on the "heart" on the tip of her nose and look forward to coming and visiting with her every Monday when we are at CFC volunteering and helping care for the kitties.
Fall 2022 Update:
"I don't really have any kitty friends but that is by my choice as in general, I don't much care for other cats. I have however become more tolerant of my 4 legged roommates and my human friends have taken notice of my softening on this one point," explains our pretty lady Constance. Constance is such a beauty and it's hard to not notice her when you enter her room. She loves interacting with humans and is one of the first kitties to come trotting your way to welcome you to her space. Earlier this year she had a health scare and lost a lot of weight but she's packed on her weight again and looks great! With no emerging health issues, Constance is looking forward to the cooler fall temps and colorful display of fall leaves.
Fall 2023 Update: Constance is a smart girl. She knows when regular cat volunteer Scott comes a knockin' to socialize with everyone, she does not have to move an inch as Scott will bring his love right to her! Our pretty girl, a bit oddly, is in major shed mode right now and in petting her, the fur is a flyin' everywhere off her. LOL. She's had to contend with newer arrival Sergeant's butting in on her petting sessions but luckily the two of them never get too agitated with the other. Sergeant wants ALL the attention and as we know, Constance wants a slice of attention and then she's done with you. Constance is at a good weight now and healthy as healthy gets. We'll enjoy watching her stretch out in one of our outside catio chairs to catch the pretty fall color show that awaits her.