EDY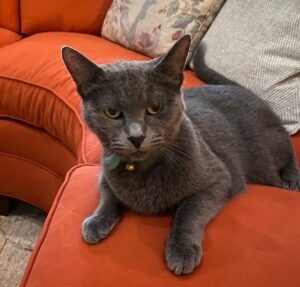 01/01/2011
Female
This is a courtesy post. This animal needs a loving home, but is not currently living in our shelter. This listing was posted on July 14, 2022.
Solid gray, domestic short hair, 9lbs
Spayed, Rabies: last March 2021, next due March 2024, FVRCP (rhinotracheitis, calicivirus and panleukopenia): last March 2021, next due March 2024
Calm, sunbathing Edy longing to be the Queen of the house
Edy is a wonderful 11 year-old female cat. She has been with our family for 10 years as a good household companion while our children grew up. Our lifestyle has drastically changed in the last year though as everyone has grown up and moved away, and my husband and I have resumed a life of much travel. We are away for work or pleasure at least half of every month and she is not getting the attention she deserves with cat sitters.
At this point, we want Edy to go to a good home where someone is home on a more regular basis. She is a typical cat, sleeps in a sunny window much of the brightest daylight hours, she is eager to go outside for some early evening air, and she loves to have her fur stroked occasionally. Of course, she is litter box trained and she is current on standard feline immunizations. She was given a clean bill of health from a recent vet visit. She is fit and trim, and active and alert.
In terms of other animals, Edy would be ideally an only pet. She does not like dogs. She has not lived with them in our household. When dogs have visited, she has been very afraid and mostly has stayed in the bedroom. She has lived with another cat – her brother. But the two cats basically led separate lives with different interests and personalities. We always got the feeling she'd prefer to be the "queen cat."
Edy would be a great addition to a home that's somewhat quiet and calm, with an owner who gives her some "space" but is ready to pet her when she jumps up on the bed or a chair. Ideally, she would be able to go outside for 30-60 minutes in the evenings but it would depend on location of course.
Contact: Julia Given givenhouse@gmail.com