FRED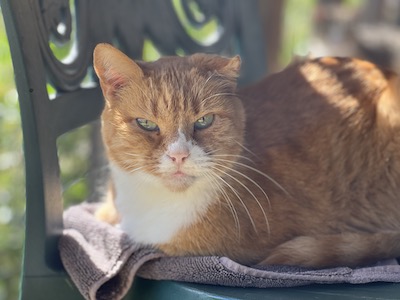 03/30/2011
08/31/2011
Male
Tabby
DSH Orange Tabby with White
HISTORY: Fred came in with Dino (who we believe is his brother), Betty (who we believe is his mother) and her five little kittens. The property owner does not like cats and wanted them all gone! CFC came to their rescue.
My earliest months were spent with my mom, Betty, and my brother Dino fending for ourselves and deprived of the love and companionship of people. As a result, I am a bashful, although very gentle, fellow. My journey to trust has reached the point where I sidle up to visitors, greeting them with little chirped meows and hoping for some gentle caresses and soft scratches under my chin. I'm as soft as the finest talcum powder with the nattiest white vest, cute as a button pink nose, and luminous copper eyes that make a new penny look tarnished in comparison. I very much like other cats and for the right artist I'm going to be a priceless masterpiece."
Update Spring 2022: Fred participated in our 2022 March Meow Madness competition in the hopes of securing a pile of treats and toys. Though he lost to Cole in the first round, we certainly don't think any less of him for trying his hardest. Fred's meow is slightly lower pitched than what we normally hear, giving it an almost mournful quality even when he's just saying hello. If you want to brighten this guy's day even more, he loves visitors (especially when they bring treats)!
Update Fall 2022: "Come and sit for a spell in my room and I'll gladly come on over and ask for some attention," explains our good, orange friend Fred. Typically, we'll find Fred outside on the catio catching some sun and wafts of fresh air but when the humans arrive for pet time, he'll let out a happy chirp and ask for some attention. While Fred does not have any "besties" per say in his cat room, he nonetheless gets along great with everyone except Tibby. Tibby does not like anyone (LOL) so Fred really has good relations with all! With no emerging health issues, Fred looks forward to welcoming the pretty fall leaves and cooler temps.
Fall 2023 Update: I'm happy to report that my good volunteer friend Scott is now able to pet and love on me as it was in the good ol' days. For a chunk of this year, I've been suffering a bit from an ear hematoma. Visibly, I now bear the scars of the hematoma as one of my ears looks like a crumpled up potato chip. Life is nearly back to normal for me now as I'm feeling better and Scott carefully pets me and tells me I'm the best. Scott knows to sit down on the cozy blue steps in my room so I can trot on over, all the time crying out how pleased I am to see him. He's noted that while I am generally good with most of the cats in my room, still he's my fave being to hang out with. With no other emerging health issues (thank goodness!), I look forward to relaxing and enjoying the cooler temps with Scott right by my side. All the best ~ Fred