GABBI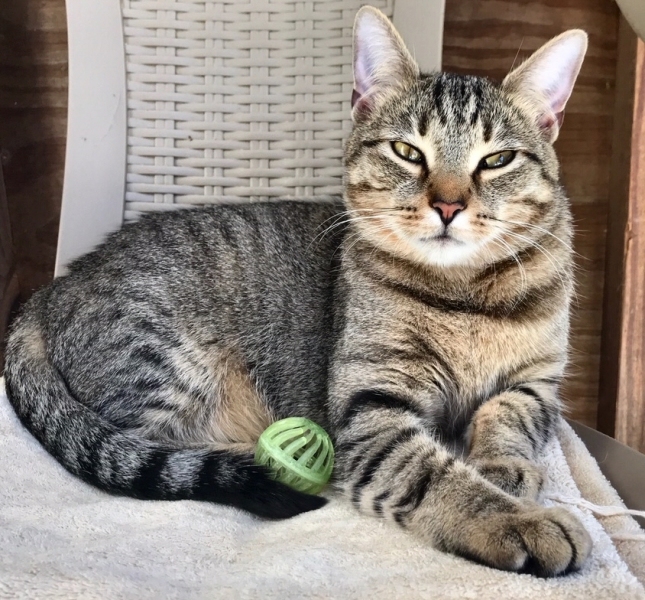 09/09/2017
03/16/2018
Male
Tabby
DSH Brown Tabby
HISTORY: Gabbi was a transfer from a Richmond rescue group when she tested positive for Feline Leukemia.
Our petite brown tabby girl holds her often expressed philosophy that being a cat is not a team sport. While she doesn't go looking for trouble, let one of her roomies invade what she considers her personal space and she will vocally admonish the offender. Miss Gabbi is quite the conversationalist and it's hard not to smile when you hear her grumbling to herself over the perceived transgressions of her suite mates. She can be comical. Open laps are at a premium in a room with so many lap adoring residents, but when one does open up she is not at all hesitant to jump up into it and curl up into a softly purring puff ball. Gabbi is quite the affectionate girl but she's not going to share a good cuddle with others; she wants you all to herself. As far as she is concerned chinny scrunches and strokes down her back are treasures not to be taken lightly. Your rewards for lavishing them on her are gentle head nudges and eyes looking up adoringly at you. In short, she is a sweet child who would cherish a chat and a cuddle with you.
Fall 2022 Update: "There are new, active girls in my room and I'm just not a fan of them. As such, I have 'time out' in my condo periodically during the day so we can all go and do and be safe," explains our pretty tabby lady Gabbi. Poor Gabbi! New girls on the block and yes, things need to be figured out so we are taking it more slowly for the kitties and adjusting their time with the general cat population. Outside of this one snafu for Gabbi, she's doing great and still opts to climb up into your lap in search of some quiet, human snuggle and pet time. Friendly and very social, Gabbi positions herself to maximize her human interaction and we always enjoy seeing her friendly, welcoming face when we enter her room. Gabbi's health is holding up just fine but we do have her on meds to help with her bullying/anxiety levels with the other cats in her room. Gabbi will soon be enjoying the fall color show and cooler temps – her favorite time of the year.
Fall 2023 Update: Gabbi's big news is that she has another human lap that she will climb up into! Good girl. Gabbi loves, loves, loves human attention and is not shy about asking for it. This is simply a newer approach for her and one that is more intimate and trusting of her human friend, Volunteer Scott. Gabbi makes no bones about not really liking other cats in her life and in particular, the youngest kitties in her room. Siblings Daisy and Tulip are the biggest irritants to her with their outgoing, super playful personalities. Likely when you enter Gabbi's room, she'll make a quick bee line hoping you'll reach down and give her some deep, loving strokes of affection. With no emerging health issues, Gabbi is set up to enjoy the fall color show in one of her usual perches outside in a cat tree on the catio. Make sure you get a front row seat sweet girl!