HOUDINI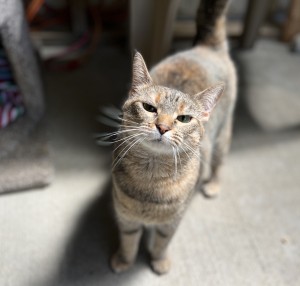 08/01/2020
03/26/2022
Female
Torbie
DSH, Torbie
HISTORY: Houdini was found as a stray then surrendered once she was tested for FeLV.
MEDICAL NOTE: Houdini is FeLV+
What's not to love about sweet Houdini? This adorable cat is full grown but still has the personality of a kitten. She loves to run around, explore, and play! If she hears voices outside of her room, she'll jump onto the door and dangle so she can peek out the window! When she's spent all of her energy, Houdini enjoys snuggling and will even let you pick her up and hold her. Due to her FeLV+ status, Houdini should either be the only cat in the home or join a family with other FeLV+ cats. Once you meet this wonderful girl for yourself, you'll absolutely want to take her home with you!
Fall 2022 Update: When we first met Houdini, this pretty lady was still settling in a bit and could be often found in her condo literally hanging out and lounging in the hammock which was positioned inside her condo for her enjoyment. More recently, Houndi has been moved to another cat room and enjoys her outside catio time. She's found many friends in her new room except for the other female tabby cat who has just not taken a liking to her. Can't win 'em all right?? Houdini nonetheless is content with her newer life with us and is happy to receive her human friends who are drawn to give her some soft pets and cooing words of friendship. Her health is holding up just fine and with the fall upon us, she's prime to enjoy the fall leaf show and cooler temps.