HUNTER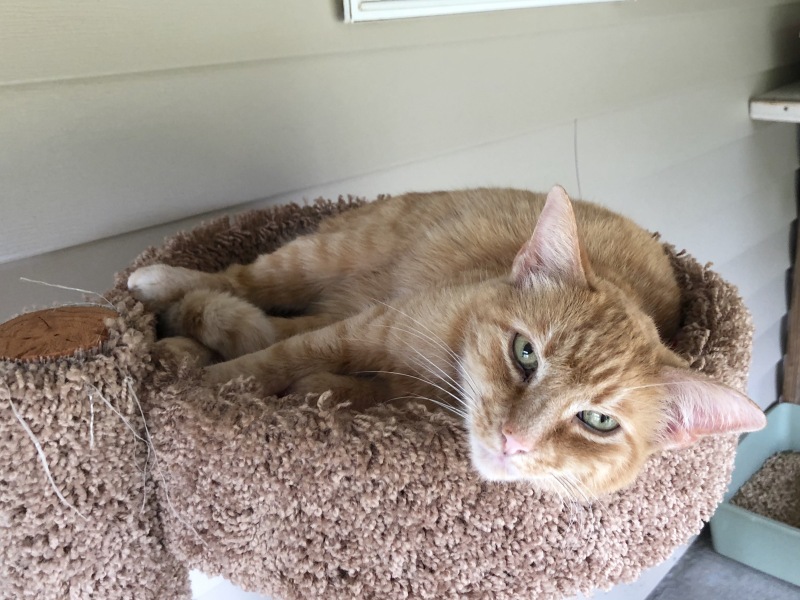 07/11/2017
07/21/2018
Male
Tabby
DSH Orange Tabby
HISTORY: Hunter was a stray/surrender when he tested positive for feline leukemia.
MEDICAL NOTE: Hunter has tested positive for FeLV.
When is a Hunter not a hunter? Why it's when he's CFC's Hunter, a love bucket and a sweetheart of a guy. He's a lover, not a fighter, and the only hunting in his repertoire is seeking out a lap to occupy. His is a laid back, go with the flow personality and there's nothing hyper about this boy. His ample orange body perfectly fills most any lap, where he delights in a good cuddle. His purr is so soft that it's almost imperceptible, but it's dependable. Lean your head down to hear it and you just might be the recipient of one of his patented chinny nudges. Here's one of his most endearing traits; should you pause in petting him he will extend his big mitten paw up to your cheek and gently pat it or he might tap your arm and draw your hand back to him to encourage you to resume the caresses. No claws are extended, just a very soft touch to remind you that "I'm here and love is in session!" He is just one very good cat. Please come visit our treasure hunter's delight- he'd adore seeing you. Note: Hunter has tested positive for FeLV.
Fall 2022 Update: "I'm still on task in checking ID's and or searching human pockets for treats as humans enter my room," explains our handsome orange, tabby man Hunter. Typically on the job by the cat tree near the main door, Hunter takes his job as a security agent and searcher of snacks very seriously! He's really excellent in this role with his friendly, carefree outlook on life and welcoming energy to all. Hunter enjoys seeking out humans for some attention and is a very good, steady companion cat to the other residents in his room. With no health concerns, Hunter is ready to enjoy the pretty fall leaf show and cooler temps.
Fall 2023 Update: You'll be hard pressed to find a human that does find Hunter to be one of the most pleasant natured kitties, ever! A creature of habit, he's normally by the door to his room acting as maitre d' of sorts as the humans enter. Certainly, this approach will maximize his chances of getting some much needed and deserved head pets from those entering his space. When not by the door, it's not unusual to find him squatting in Charlie's condo (one of his roommates) for a change of pace. Now approaching 6 yrs of age and being leukemia positive, Hunter is showing his age a bit more but still he's mobile, engaging and just as delightful as they come. We are honored to have him under our care.