JACK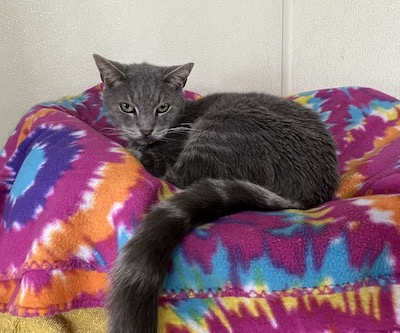 11/01/2008
03/22/2019
Male
DSH, gray
HISTORY: Jack was surrendered to us after his owner went to an assisted living facility.
At first, Jack is incredibly shy. He will stay on top of the cat condos and watch from afar. Once he's gotten used to you, however, he does a complete 180. Jack will meow at you and come down to the floor to greet you. He is also an unexpected lap cat. Though he will generally defer to the more assertive cats when it comes to hopping on laps, if your lap is open he will eventually make his way over. Jack really values the time he spends with his chosen people. With a little time, patience and focused attention, one of those chosen people could be you.
Update Summer 2022: Jack can be found resting on the screened catio or on top of one of the condos in the Senior Room. He is still a little bit shy, but once you've spent some time with him, he will come to you wanting head scratches and may even hop in your lap. He would probably be best suited to a home with no small children, as he doesn't like loud noises or quick movements.