JACKSON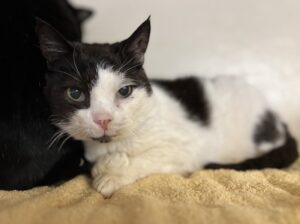 05/01/2009
05/15/2010
Male
DSH Black and White Male. Jackson sports a black cap wrapping around his right eye giving him a very dapper appearance. He has black on his chin, a black tail and beautiful yellow eyes.
Action Jackson is what my close friends call me. They know that I am in the perpetual hunt for activity and am always busy as a bee. I have loads of character and am frankly very full of myself!! Smile. Smile. Count on me to dramatically flop on my side so you can more easily give me belly rubs, chin massages and special scratches. With so much energy and love to share, I know I'm a hot commodity so come check me out while I am still available.
Mini Volunteer Update May 2022: Jackson always cracks me up when I enter the room!!! He is usually on the top condo chilling w/ others. He is always happy to see me & he then becomes the Mountaineeer. He climbs down the condo, backwards, very carefully. Sometimes, he gets stuck – he stops, gets his claw free – and continues down to the floor to give me a proper welcome, circling me for petting & attention. Love the guy!
Update Fall 2022: We love our black and white friend Jackson and can always count on him to mix and mingle and be a good friend to all in his room. At 13yrs of age, Jackson has slowed a bit (he's not as fast on his feet for example) but he's still very agile and can jump and climb to his heart's content. Although Jackson does not have any bestie friends, if he had to pick and choose, it would be Fred and Emmi with whom he would wish to relax on an unpopulated island! LOL. Jackson has been struggling with chronic ear inflammation but it seems more at bay for now. In addition, he has flea hypersensitivity so he is one of the kitties who wears a Seresto collar. Lastly, he has a gum issue that we periodically control via meds. Despite these on and off again health issues, Jackson looks forward to enjoying the pretty fall leaves and cooler temps coming his way. He's a dear, older kitty.