KADIE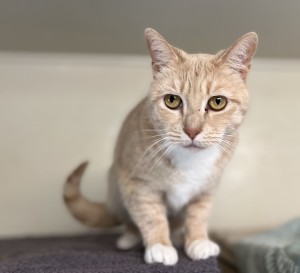 04/01/2017
09/29/2017
Female
DSH, buff and white
HISTORY: Kadie was a stray in Palmyra.
Kadie is admittedly pretty standoffish to most people. Don't be surprised if she hisses when you first meet. After some patience and time, however, the hisses turn to meows and she is excited to see you. She enjoys being pet, particularly while up on top of the cat condos. She's still pretty wary of humans in general but with the right amount of care and attention her sweet personality will surely shine through.
Mini Volunteer Update May 2022: She is becoming so much braver!!!!!!! Once she knows & trusts you, she will timidly come over for greetings. She enjoys slow pettings in the head area – just for the sake of being near you. She is NOT looking for treats because she doesn't eat the Temptations…….she just wants quiet attention. She will retreat once the other kitties gather, preferring to be alone up above at that point. Periodically however, I spot her hanging out in one of the wooden houses with another shy kitty, Cassanova.