MARBLE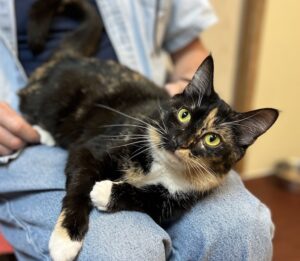 06/01/2021
07/22/2022
Female
Calico
DSH, Calico, mostly black with white and tan
HISTORY: Marble was rescued from a hoarding situation by the Fluvanna County Animal Control. Transferred to CFC by FSPCA. Sadly, she was the victim of neglect and overcrowding that is typical of hoarding situations.
MEDICAL NOTE: Marble is positive for both FeLV+ and FIV.
Marble has come a long way since arriving at CFC last summer; she went from being a little skittish around people to being a cat that loves sitting in your lap receiving pets. She is your typical calico cat, very friendly but can also be a little impish and mischievous!! Marble loves playing with cat toys, batting them all over the room! She also loves to be petted, especially if she is sitting in your lap. Marble does not let her FeLV+/FIV slow her down. Due to her medical status, Marble should either go to a home where she can be the only cat or a home with other FeLV+ cats. If she sounds like the special cat you are looking for, we encourage you to come spend some time with Marble.
Volunteer Update February 2023: Marble has now emerged full time from her condo and her effervescent personality is on full display. She's getting along famously with her roomies and she has discovered the joys of lap sitting. Take a seat and you'll be rewarded with a leaping lady landing in your lap. She absolutely loves pets and chinny scrunches and rewards the giver with mighty fine head bumps. Candidly, when she was a full time condo dweller we never expected that we had such a love bug on our hands, but WE DO! Come visit the Marvelous Miss Marble.