MUFFIN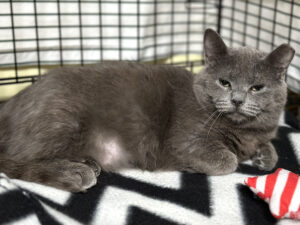 08/18/2022
12/04/2022
Female
DSH, gray
HISTORY: Muffin is a stray from a local cat colony who arrived with Noodle, Gomez, Pugsley, Tully, Chickpea and Pancake.
Muffin was brought in along with Noodle, Gomez, Pugsley, Tully, Chickpea and Pancake so we could get them into a warm area before the colder weather hit. Muffin was originally a TNR that was returned to the colony. We thought with her being that young she deserved a better life with the chance of a loving home instead of the life she would have had staying in the colony. Muffin is still quite shy of people, but we hope with enough time and attention she will grow to love all the attention and loving she deserves. We patiently await to see her personality as she becomes more confident in her new surroundings here at CFC.
More about me March 2023: Muffin is still very wary of people. Don't be surprised if she hisses or growls when you first meet her. We would recommend that for the first few visits not to touch her, as she may try to strike. In the time Muffin has been at CFC, she has not warmed much to the attention she has received. We are working to create a space at the Scratching Post for her, where she can be around other cats and have the freedom of moving around the room. We believe her to be a "project cat" who is going to require a per- son who is very cat savvy and willing to dedicate the time and energy to gain her trust.