PANTHER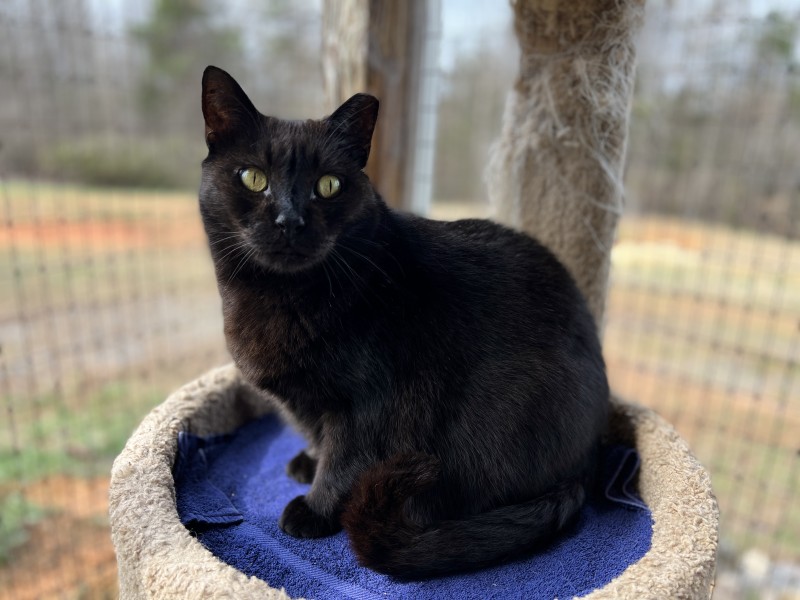 01/01/2011
09/24/2015
Male
Domestic short hair- Solid Black
HISTORY: Panther was part of disbanded feral colony.
MEDICAL NOTES: FIV+. More about FIV+ here.
No I am not giving anyone the raspberry. That would be rude! The pink tip of my tongue protruding from my lips in my photo is just my endearing little trademark habit. While I came from a feral cat community, I am the furthest thing from feral that there could be. You can usually find me in the forefront of the crush of attention seeking furries that greets visitors. My plush ebony fur is glossy, my velveteen nose is adorable, and my handsome face just exudes sweetness and kindness. You'll find no rough or uncouth behavior with this guy. In fact my best friends call me PP, which I have heard is short for Phenomenal Panther. I like being called that. Once you're seated, likely with one or more of my roomies in your lap, I'll sit near you, looking up engagingly and silently imploring you to pick me up too. Once I have established a position lap wise I lavishly bestow soft head bumps and soft purrs on my person. I've been called a love sponge, soaking up as much stroking and caressing as I possibly can. The consensus among those who meet me is that I'm just an awfully nice boy, one who has overcome a rough start in life and who deserves a forever home with people who will dote on him. I concur with that. I'm the purrfect guy to settle in with you for a long winter's nap, but I'll be there for you any time of the year." Love, PP
February 2021 Update:  Panther just might be part dog!  We've discovered that he absolutely LOVES belly rubs, to the point that he will roll over onto his back if you even touch his tummy.  As you may know, this is quite unusual for a cat!  Panther can be a bit shy around strangers but likes attention once he's had time to get to know you a bit.  He can typically be found curled up on a pillow or blanket, relaxing.  In case you were wondering, yes, he does still stick his tongue out from time to time!  Panther is a goofy boy who we love dearly.