POCO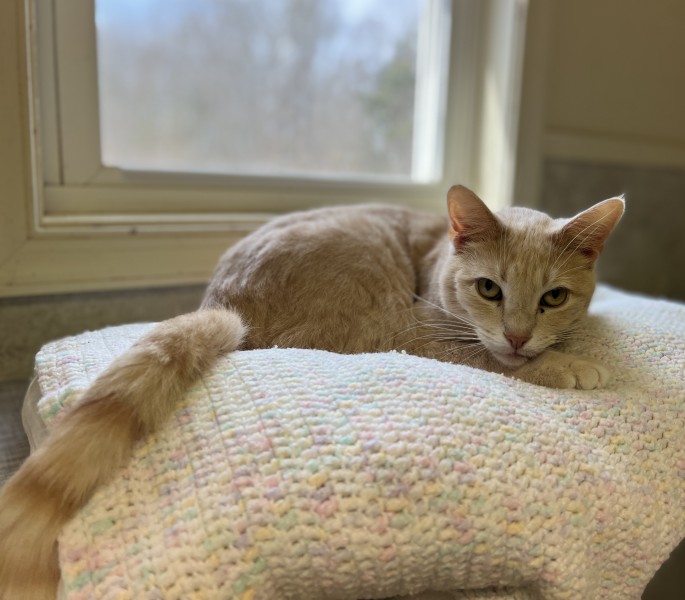 06/09/2015
09/13/2016
Male
DSH Buff with Beautiful Amber Eyes
HISTORY: Poco came to us through Community Cats Rescue. He was rescued from a hoarding situation in Fredericksburg, VA, and tested FIV+.
MEDICAL NOTES: FIV+. More about FIV+ here.
People seem to be mesmerized by my eyes, which are the richest and most luminous amber shade they say they have ever seen. Insert blush of modesty here. Did I mention my great Yosemite Sam whiskers and lamb soft buff fur? It's not uncommon for FIV kitties to have dental issues and I had mine, but ever since the vet took care of them I have gained weight and am called movie star handsome once again. I'm a flighty little guy at times and can be quite bashful with unfamiliar people, but as I cajole you for my much loved treats my shyness is replaced by flirtation and soft head bumps. By nature kindly and peaceful, I get along well with other cats. I may try not to show it but run your hand down my back and you'll see that I really do enjoy human interaction and getting affection. In a room chock full of friendlies I may fly under the radar, but if you pay attention you'll surely see me hanging out on the periphery, just waiting for a chance to share in the loving being doled out. I may be a bit of an introvert but beneath this unassuming exterior lies a whole lot of potential. Do come and say hello!
Fall 2022 Update: "I love it when cat volunteer Terri comes by to say 'Hi'," explains our buff jacketed friend Poco.   Poco in general is a pretty shy/reserved fellow but gosh, when Poco spots Terri, it's a real game changer.  Poco adores Terri and to watch Poco get a deep comb job by our skilled cat volunteer, well it is an amazing sight to see.   On a more typical day,  Poco spends his time relaxing, relaxing and getting in more relax time!  With no emerging health issues, Poco looks forward to enjoying the cooler fall temps and the colorful fall display of leaves.