SAI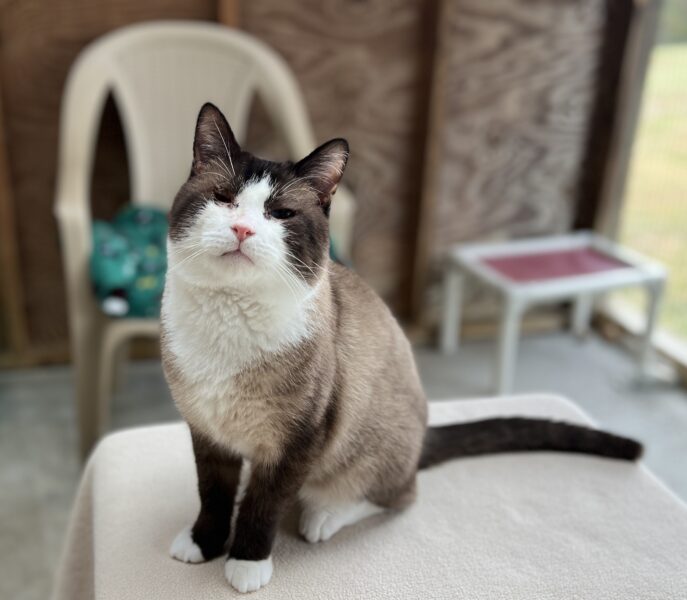 06/01/2020
07/22/2022
Male
Siamese mix
DSH, Siamese mix
HISTORY: Sai was rescued from a hoarding situation by Fluvanna County Animal Control. Transferred to CFC by FSPCA
MEDICAL NOTE: Sai is positive for both FIV+ and FeLV+. He lost the use of his right eye apparently due to corneal rupture.
Sadly, Sai, along with many other cats, is the victim of neglect and over- crowding that is typical of a hoarding situation. Sai has been a gentle and polite newcomer that is enjoying all his TLC. We are continuing to address a few routine medical issues and hope to know soon if his eye will need to be surgically removed.
Update November 2022: Sai's has had his eyes looked at, his good (left) eye had a corneal scratch that has healed, and for the time being his bad (right) eye is ok, if the condition of his bad eye becomes bothersome to him it may need to be removed. He has settled in at CFC very nicely. Sai is such a friendly boy who loves to be picked up and petted. Sai loves attention from staff and volunteers. He wants so badly to socialize and play with his roommates, but they prefer their quiet time.
Volunteer Thought: We love Sai and you will as well. Sai is a calm, polite fellow who has beautifully settled into his new space here at the Sanctuary. Sai enjoys hanging out on the catio area but can also be found spooning with Smokey (very shy kitty) and also Buck in the cat tree right by the front door to his room. You can see him eagerly gazing and looking through the window of that door hoping someone will come on in and say "Hi" to him or better yet, bring him on home!