SOPHIE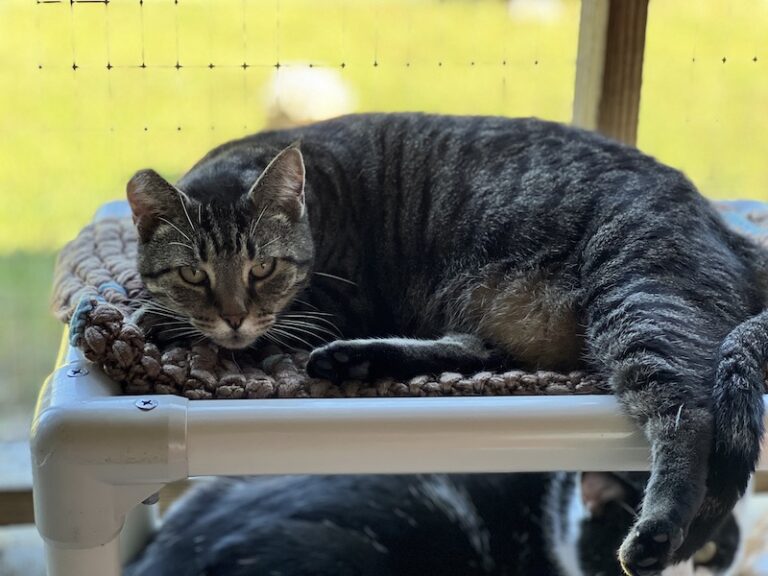 01/01/2012
06/28/2014
Female
Brown tabby with golden eyes
HISTORY: Sophie was part of a feral cat colony in No VA. After birthing a litter of kittens that were all rehomed, we found a safe spot for her here.
I am an exotically striped brown tabby- Beautifulus tabbius to those of you in the scientific community. When first I arrived here I sat in my condo glowering at anyone who dared approach, but folks just wouldn't take no for an answer and they didn't give up on me. Gradually the hard looks gave way to curiosity as I was spoken to kindly and offered treats, which I dearly love. Now that I am out and about full time I remain shy and apprehensive but the true cat person can see in my eyes a gentleness and desire to be loved. I much enjoy toys and treats and as you can see in my photos I have learned to relax and enjoy the comforts of living in polite society. In my relationships with people I'm a work in progress but hey life's a marathon, not a sprint. I know that I'm loved and valued here and that's an awfully good place to begin my journey.
Fall 2022 Update: While dark, tabby lady Sophie may not desire ANY human friends, it's always heartwarming to see her surrounded by other kitties when we enter her room. With so many kitties by her side and providing her with companionship, who needs us humans after all? LOL. Sophie enjoys hanging out on top of kitty condos behind other cats. This way, when the ill informed human reaches to pet the heap of cats in this area, they are more likely to NOT touch her which is her preference. With the more pleasant temps outside, you just might catch her on the catio area so be on the lookout! With no emerging health issues, Sophie looks forward to enjoying the fall display of colors and cooler temps.
Fall 2023 Update: Our pretty tabby lady Sophie is looking for love! This shy beauty is often seen sashaying and trying to catch the eye of roomie Cassanova but with a steady stream of rejections…really, he ignores her…she is now moving in on handsome Kit, an orange and white fella. Of note, Sophie is about 10yrs old and Kit a mere 3 yrs. Oh, that cougar of a kitty, Sophie! Outside of her love interest, Sophie is doing well. More recently she has taken a liking to the laser dot pointer which gets her up and moving! Mostly, she seems to prefer the outside catio which will be ideal for her to take in the fall color show. We're pleased Sophie is showing more layers of her personality. The big question however is, "Is she looking for love in all the wrong places?" LOL