TRISCUIT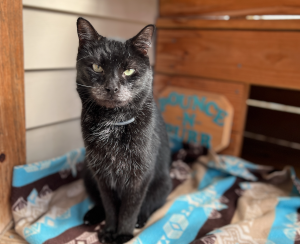 01/01/2009
03/05/2011
Male
HISTORY: Triscuit was surrendered when the dog in the home became aggressive.
BEST IN HOME WITHOUT OTHER CATS
Like my namesake I am a full of energy and sometimes salty guy. I am so full of myself that I found it difficult to hold still for my photo shoot. I almost turn myself inside out begging for some loving, virtually standing on my head and giving bodacious head bumps. As for the salty part, I am not a fan of other cats and can be downright cranky with them. As the center of one's universe in a single cat (ME!) home I think I would be an entertaining, affectionate, and fun companion.
Note: Triscuit is one of THE most awesome cats at CFC. Steadily holding down a very revered post at The Scratching Post kitchen area, he's a fast meeter and greeter and loves everyone he meets and ALMOST loves the dogs he meets more than the humans he meets. He's not a huge fan of other cats. He needs to be watched when he is "on task" and working in the kitchen area to make sure he is behaving in an appropriate manner towards the other loose cats. His ideal home would be stocked with humans who LOVE an interactive kitty (head butts and purring and figure-eighting) and also pre-stocked with a dog or too and also kids. Some might say Triscuit is actually a dog wearing a sleek black cat suit!
Update Spring 2022: Triscuit participated in our 2022 March Meow Madness competition in the hopes of securing a pile of treats and toys. He advanced past Flare and Walter before losing to Brooke in the final four. Triscuit has always been a chatty cat, sometimes having conversations with visitors that last several minutes. If you're curious about what this man has to say, we encourage you to come speak with him yourself!
Update Fall 2022: Senior kitty sensation Triscuit has found his new happy spot in the Scratching Post kitchen area. Specifically, it's typical to find this pleasant fellow relaxing and lounging on a low rise cat condo outside of our leukemia cat room, L3. He's at the perfect height to catch the eye of those walking around and greatly benefits and is appreciative of all the extra attention he gets from us humans. Curiously, he's taken a liking to kitten Atticus which is so odd as he really does not like other cats! LOL. Still very bright and alert at 14yrs of age, Triscuit is healthy and yes, very happy. Should you stop on by to say "hi" to him, you'll know where to find him and if you listen closely, he'll greet you with a sweet little chirp.
Update Fall 2023: Our handsome, salty character Triscuit is back to his "old" self. When we changed out his cat tree to a newer model a few months ago, our good friend was not happy. We sensed a lot of pouting during the day as he spent most of his time in his overnight condo. In general, he was just more grumpy. Luckily, Triscuit has now accepted this new tree and is at the top of it eagerly welcoming humans as they enter The Scratching Post. One of his newer, fave humans is our Maintenance Mgr BJ. The two of them greet each other like old school buddies which just warms our hearts. Triscuit, as a senior kitty, has slowed down which is expected however he's still putting in a good, full day's work. He just got a new Seresto collar so that will help keep fleas away from our good friend. He's healthy and he's still grooming and grooming himself to keep his coat as meticulously clean as possible. Our days are really not complete unless we can get our daily Triscuit fix!