VIVIEN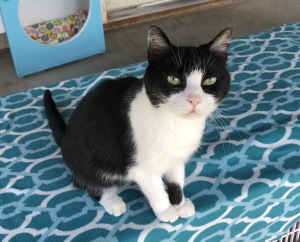 01/01/2015
05/30/2020
Female
DSH; black and white
HISTORY: Vivien was a transfer from the Fluvanna SPCA.
MEDICAL NOTE: Vivien tested positive for feline leukemia virus.
Vivien is a happy cat who wears her tuxedo with aplomb.  One of the first to greet visitors to L3 and incredibly receptive to pets, Vivien has won over many with her polite, easygoing personality.  Vivien can sometimes get overlooked because she doesn't demand attention like some of the other cats in her room, she just waits for you to come to her and is happy when you do.  Vivien roams all around the room and porch so might be found outside, on top of a condo, on the floor, or any number of other places.  She likes to make use of all the amenities CFC has to offer!  Due to her FeLV+ status, Vivien cannot be kept with cats who do not also have the virus.  She gets along great with others, though, so would make a great addition to a FeLV+ cat home!