AMARA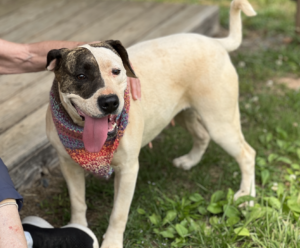 01/01/2020
02/05/2023
Female
Large : Larger than 45 lbs.
Hound/Lab Mix
Hound/Lab Mix; Sleek cream coat with a brindle mask. About 50lbs
HISTORY: Amara and her companion, Mila, were likely abandoned. They were found on a bridge, frightened and dashing in and out of traffic. A CFC staff person was on her way home and stopped to help them.
Amara arrived at the sanctuary late one Sunday in early February. She was very thin, had both open and healed over wounds. She (and her companion, Mila) were both very frightened. Once settled into their kennel together, they enjoyed a good meal and shared a large heated house together. A healthy diet, and complete medical care was provided. It was obvious that Amara was grateful for our love and hard work on her behalf, and she is now enjoying a healthy body and welcomed peace of mind.
Since her arrival, Amara's fears and insecurities have eased quite a bit. She enjoys interacting with humans and, of course, she is happiest and the most secure, when she is with her canine companion, Mila! Amara exhibits many of the qualities we have observed in hounds over the years – friendly, resourceful, and smart like a fox! Amara knows how to survive. But now, we want her to thrive! She thoroughly enjoys leash walks with our volunteers. Amara and Mila also enjoy a robust game of tag or tug of war followed by a glorious nap in the sun or on their wooden table.
We have a vision for Amara. A vision of being in a stable home with loving humans who are kind, patient, and provide top notch care. We're pretty sure she has never experienced that scenario thus far in her life. In the home we envision, Amara has a warm bed to sleep in, a fenced yard to run around in and daily leash walks to accommodate her need to sniff out the world around her. If all the stars were to align, our vision for Amara includes her companion, Mila.
We have seen Amara blossom and begin to enjoy life without the need to look over her shoulder and always be in a state of high alert to a possible lurking danger. Good food, a healthy body and a safe environment has given Amara hope once again. We know the sky's the limit for Amara and maybe, just maybe, your home is the perfect fit for this girl who has so much to give. If you've been searching for a dog to love, this may be your girl. We would love to introduce you to Amara!