BABE RUTH- Vet Pet Pick!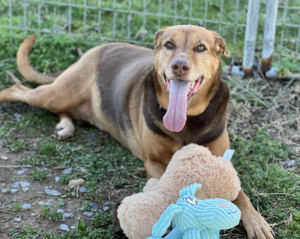 03/01/2011
03/01/2014
Female
Large : Larger than 45 lbs.
Hound/Shepherd Mix
Hound/Shepherd Mix – 55 LBS
HISTORY: Rescued from a high kill shelter when her time was up. Best in a home without cats and other dogs.
She's a BABE all right! While she may not catch the balls and run the bases, she's ready to make a home run hit with you! All dressed up in her two-tone jacket and happy to show off her long, lean legs, Babe Ruth's a real head-turning lady! But her beauty is not just skin deep. She has the perfect skill set for a busy, active family, whether walking down Main Street or rambling through the park. Babe Ruth is a very social, affectionate lady. Just prior to our taking her in, her very temporary foster family reported that she was a HUGE couch potato only wanting to be near people! Don't be fooled by her love of the sofa though, as she loves to get fresh air and exercise to keep her sleek, trim look! Very, very smart, she knows sit, shake and lay down on command. A friendly gal, she's pretty unflappable and ready to head on home to your private ball park!
A Word from Babe Ruth:
"Ask just about anyone who has met me and they'll tell you that I am one of the sweetest dogs around. When I first met one of my walkers, I knew at once she would be friendly! I immediately approached her with a toy in my mouth and placed it at her feet, and wagged my tail expectantly. I love attention and I am quick to roll onto my back for belly rubs. Although I am getting older, I still have plenty of energy and love to go around chasing tennis balls. Going on car rides is one of my favorite things! Not to be conceited, I am easily one of our smartest dogs and am perceptive and well-behaved around people. During feedings, I always wait patiently on my platform and never jump, despite being excited to eat as evidenced by my wagging tail."
What Babe Needs in Her Home: Babe Ruth is a great dog, very friendly and loving, but she will do best in a home without cats and other dogs. Be careful that she does not see another dog or cat up close, because she can pull very hard when interested, and she may not use her best manners. A fenced yard would be great! She is happy in a crate or without, and understands the dynamics of living indoors, including housetraining. She is good around kids, and will be a great part of your family!
Fall 2023 Update: Our pretty redhead Babe Ruth seems to be in a good state these days. Staff and volunteers alike have noted that she's more calm and laid back and has a greater feeling of peace about her. Boy, do we love this! Babe Ruth is still up to her silly antics of burying her toys and still has her fave volunteer Angela bringing her a fresh of assortment of toys to help keep her at her best. Some might say Babe Ruth maintains the best overnight accommodations on site in the ante room of The Scratching Post and who are we to disagree with this observation? We enjoy and are honored to have Babe Ruth under our care and look forward to fitting her with her winter coat to enjoy the upcoming cooler temps. You go sweet girl.