BROWNIE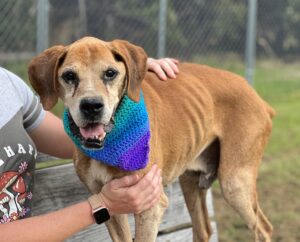 01/01/2008
Male
Medium : 20 - 45 lbs.
Boxer Mix
Sleek tan coat. Nub tail.
HISTORY: Was found emaciated and tied up in a backyard before being rescued by H.O.W.S.
Brownie is a heartwarming boxer mix who is a true testament to how a dog's life can change when given a chance. Rescued when he was emaciated and in need of care after his owner had passed away, he's been making a remarkable recovery and his spunk is returning with each passing day. Brownie's sweet and gentle nature has never wavered – he's an absolute gem who radiates love and affection. Brownie's love for people is undeniable. Leaning against you for pets, he offers a comforting presence with his sweet nature. With his health improving, he has found his love for going on walks with an excitement that could put younger dogs to shame! You can often see him curled up on his soft bed, snoozing the day away. We can see this boy loving every minute of living in a home with couches and dog beds to curl up on. At 16 years young, Brownie is seeking a cozy and caring forever home where he can spend his golden years.
Fall update 2023: Brownie is 16 years young and is surprising us more and more every day! He's making up for lost time since being freed from life at the end of a chain. This guy actually pulls volunteers while on his walks and aced his 'stair test' though it was obvious he initially had no idea what they were. The sky's the limit for this amazing, brave dog.