CLEO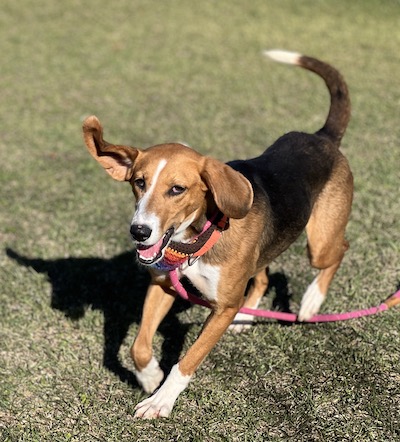 05/01/2022
09/09/2023
Female
Medium : 20 - 45 lbs.
Hound
Isn't she lovely? Cleo is your classic sweet hound who we found languishing in a county shelter. We spoke up for her and since her arrival at our sanctuary, she's been ready to make up for lost time! Cleo carries no grudges from her past life. She wears a perpetual smile and loves snuggling with people. She's smart too and is a pleasure to walk. Cleo would benefit from being with an active family where she can be a part of their adventures. Come out to meet Cleo and give her the happy ending she so deserves.
County Shelter Observation: Are you looking for a sweet, snuggly, and absolutely silly best friend? You know the type, those that you love to be around, that make life fun and interesting, that keep you laughing. Well Cleo is that type! She is strikingly beautiful with her shiny, tri-color coat and graceful prance. She approached every volunteer happily and with sweet nuzzles. Upon meeting other dogs she would freeze a minute and decide if they were going to be polite or not. If they were too rough she would meander away. She picked two dogs today that she absolutely loved though; Luke and Mollie. She let herself be very silly, with a zoomie here and there and she would lie on top of Luke, a large lab mix, before going in circles around him. He had as much fun as she did. Mollie is a sweet smaller dog that needed a cheerleader, she was a little overwhelmed at the shelter. Cleo was that cheerleader, letting Mollie know that she was her buddy and it was all about playing and having fun, and some snuggles from her human friends. They ended up being new roommates in the kennel. She was playing and running and meeting lots of friends. Love this girl!
County Shelter Observation: Who has the sweetest and softest personality in the county? If you answered CLEO, then you are correct! Cleo is just the best folks. This lady was awesome during her photo and evaluation session and she truly finds friends no matter where she goes and no matter who she sees. Silly, playful, very unflappable, loving, polite and did we mention cute as a button, Cleo would be perfect with just about any home environment. She would be terrific arounds kids and certainly other doggies. Just as pleasant natured and lovely as they come, if you don't like Cleo then you just don't like doggies! LOL. Similarly, if a doggy does not like Cleo then they just don't like other doggies. We had Cleo out for a full 3 hrs and she was the biggest social butterfly as we brought her doggy after doggy to meet. If an affectionate, well balanced love bug of a dog is your kind of new best friend, look no further than Cleo.