DARBY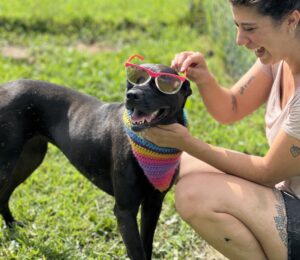 03/01/2020
12/02/2020
Female
Medium : 20 - 45 lbs.
Lab Mix
Lab Mix; black with small white spot on chest; 40lbs
HISTORY: Darby was an owner surrender from a family that could no longer care for her.
Meet our sweet Darby girl!
This girl is special, and looking for a special family to bring her to her full potential!
Darby is the sweetest girl, who has the potential to be a wonderful companion if paired with the right family who wants her to be their one and only. A family who is experienced with dogs and training behavior would really help Darby shine in a home and bring out the gem of a dog that she is through influencing positive behavior as well as developing trust and confidence.
Darby is a gentle soul who loves attention and will let you know she wants pets by very politely giving you her paw. However, once she gets the room to run, she can fly like the wind and jump like a kangaroo! Playing fetch with any type of toy is one of her favorite hobbies. Another hobby of hers is riding in the car. She loves to watch the world go by, and is on her best behavior as your little copilot. She listens well to commands and is so smart, you will be wowed by her ability to pick up new tricks! Finding an outlet for her to use her mind and body would help her not only gain that trust and confidence with a new family, but give her a way to burn off some energy. Darby puts her best paw forward when walking on a leash. She is calm and doesn't pull, which makes walking her a real treat.
Darby does not like being confined or restrained so this will be something her family will need to work on with her. Dogs who have had difficult times in their life may understandably need some help to regain that sense of security, but they are undoubtedly worth the extra effort. With a girl as sweet, smart and affectionate as her, we see great potential in getting through these struggles and becoming the best version of herself.
Other dogs and cats are not Darby's "cup of tea", so a home in which she is the only pet would suit her best. Darby needs a family who will respect her boundaries, so children in the home may not be the best situation for her either. A backyard with a tall fence for her to safely run and jump would be best.
If you think that you could be the family Darby needs, come visit her for yourself! (WARNING: she will steal your heart!)
Fall 2023 Update: Darby was such a good, good girl during one of her recent photo shoots. We were all playing around and decided to see if she would wear some crazy, hot pink glasses and not only did she wear them, but she totally rocked out during her photo time. We love her spunky, silly personality and know her person is out there. As Darby has aged, she has become more and more sensitive to the energy of storms so she's coming inside for night times. On more than one occasion as a storm came in …let's say during the day for example, our sweet girl would stand outside in the rain (vs going in her dog house or under her covered porch area) and would shake with fear. No one and I mean no one ever wishes to see this, so we're not taking any chances and in the evening moving forward, in she goes! Outside of this fear that has been slowly creeping along, Darby is doing great health wise and we'll look forward to seeing her enjoy the fall color display of leaves. What a fun and super pleasant girl she is!