DUSTY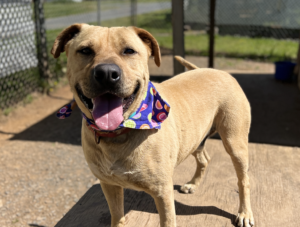 12/01/2017
04/10/2021
Male
Large : Larger than 45 lbs.
Lab Mix
Lab Mix; sleek, golden coat; white blaze on chest. WEIGHT: 66.2 pounds
HISTORY: Dusty was transferred from a high kill shelter in South Carolina when space became an issue. He arrived as a stray and was overlooked for rescue or adoption for months.
Dusty has quickly become one of the favorites among our volunteers! With spunk and enthusiasm, he greets you as a long-lost friend! He loves to go for walks! He also loves to be made over and petted!
Queue "Best of Both Worlds" by Hannah Montana.
This guy is truly an oxymoron. He has the energy to keep up with you on a hike, run or long walk but when he is inside, he is subdued and wants nothing more than to snuggle up with you. Although he is 66lbs, he hasn't gotten the memo that he isn't a lap dog. He loves to give kisses, get hugs and sit in your lap. But if his weight becomes too much, he is very good at listening and will happily lay in his bed. If you don't think his sweet disposition makes him the cutest boy already, you will swoon when you see that he also tends to smile in his sleep!
Another way to bring a smile to this boy's face is to take him for a car ride! One of our volunteers says that he goes "bonkers" when he sees he is going to go for a drive. He is well behaved in the car and loves to ride shotgun. This silly guy will even drape an arm over yours while you drive, like you're just two buds out for a cruise!
Dusty is easy to get a harness on and will settle into a relaxed walker when on a leash. This boy tends to mosey around, but given the chance, he loves to run. When given the space to do so, he loves his zoomies, so a home with a fenced in backyard for him to zoom to his heart's content would be the best fit for him.
Dusty loves other dogs but can be selective, so proper introductions to other dogs would be helpful for him to make new canine friends. As for cats, he has shown a little too much interest in them, so a house without cats would be best. He may bark at strangers at first, but quickly warms up into his affectionate, goofball self. A house with older children (12+) would be the best fit for him as he can get a little over excited, but with redirection he will quickly settle down.
If you think that Dusty may be the one for you, come and meet the oxymoron yourself!