JANIE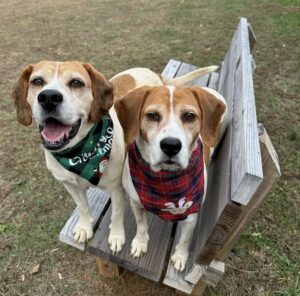 08/01/2014
02/01/2015
Male
Medium : 20 - 45 lbs.
Hound
Hound- Red and white sleek jacketed; oval red spots on her sides and freckles on her muzzle. 42 Pounds
HISTORY:  I showed up with my sister Juno at a local home 7 years ago, and we were brought to the sanctuary when our owners could not be found. I have no major medical problems.
NOTE: Juno is on the left, Janie is on the right in the main front photo.
Two fun peas in a pod, meet siblings Juno and Janie, who are in the hunt to make your day! They are a bubbly, friendly pair that have such a great time together that it's almost criminal. Both of them are skilled leash walkers and give lots of darting kisses. They are playful, affectionate, wiggly ladies looking for their first full time pet jobs. Lovely and eager to interact with other dogs, they would love to go home together.
A Word from Janie:
Hey there, what's up? Wait, you want to come in HERE? Whoa! I don't know you! Juno, better come over here, where they can't catch us! I mean, we love to go for walks and play in the arena, and we do have dates for walking with other dogs, but let's not get too familiar just yet….(a couple of visits later) Hey, Juno! It's our new buddy!! Great! Here I am, ready for my harness! Can we go play in the arena later? I love to sniff around the edges!
What Janie Needs in Her Home:
Juno and Janie go as a pair! They have been together so long they just can't live without each other! Plus, they need time to get to know you, so plan on multiple visits to come out and get to know them. Janie will warm up to you first, then Juno gets the picture and begins to trust you. Once that happens, Juno will come and sit on your lap, while Janie navigates the surroundings. A quiet household would be the best, with children who are over 12. Cats are okay. Juno and Janie may remain skittish about some things, but not you! Having lived in our outside pen for many years, they would need some practice at being inside, but our short stays inside here at the sanctuary suggest that is not a big issue. They might need some help at housetraining, too. You will have a bundle of love when you adopt these two!
More about us Spring 2022: 
We are the Dynamic Duo and where one goes, the other follows! It's a great feeling to know that when volunteer walkers come out to walk dogs, they ALWAYS reach for us first as we are so easy to manage! More recently, we have been walking using one leash that has a double hook attachment so the two of us are nearly shoulder to shoulder as we amble along and explore the trails. Teenagers can easily walk us and we also have 70+ yr old folks who walk us. Now, that's easy peezy walking folks! As an extra perk, we smile and wiggle a lot and offer up the perfect amount of kisses and nuzzling. We've been waiting a while for our Happily Ever After and would surely love to meet you. 'Til then, look for the double leash attachment and you'll find two fine looking, happy ladies slowly ambling down the main CFC driveway. Hope to see you!