JUNO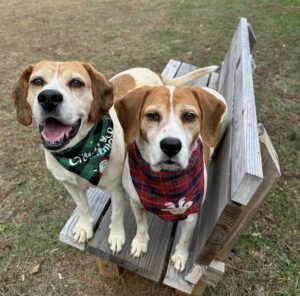 08/01/2014
02/01/2015
Female
Medium : 20 - 45 lbs.
Hound
Hound; Red and white, sleek jacketed; wide red saddle over her back and a very wrinkly/expressive forehead. 38lbs
HISTORY: Juno and Janie showed up at a local home and were brought to us when their owners could not be found.
NOTE: Juno is on the left, Janie is on the right in the main front photo.
Two fun peas in a pod, meet siblings, Juno and Janie who are in the hunt to make YOUR day! This bubbly, friendly pair have such a great time together that it's almost criminal. Both skilled leash walkers and givers of darting kisses, Juno and Janie are playful, affectionate, wiggly ladies looking for their first full time pet jobs. Lovely and eager to interact with other dogs, these ladies would love to go home together. They are both a little shy, especially around strangers, and Juno takes a little more time to warm up to strangers, but once he does, he is a love bug. These two are calm, respectful walkers who rarely pull. They also love to run around and play together in our arenas. Juno tends to be a bit more affectionate while Janie wants to go check out her surroundings, but in the right environment both of them love attention and will be happy to lay on you and receive pets. They also get along well with most other dogs. Give Janie and Juno some time to get situated and you'll be shocked with how bubbly and sweet these two are!
A Word from Juno:
Just so you know, I am a nervous sort of guy, but I love to snuggle, so if you show me you want to be friends, eventually I will be up close and personal! My sister Janie is more of the bold of the two of us, but once I am comfortable, I loosen right up! I trust her to let me know when things are okay, and even then I take my time getting to know you. We love to walk with other dogs, and playing in the arena is always fun! Just know, if you want my sister, you had better take me too!"
What Juno Needs in His Home:
Juno and Janie go as a pair! They have been together so long they just can't live without each other! Plus, they need time to get to know you, so plan on multiple visits to come out and get to know them. Janie will warm up to you first, then Juno gets the picture and begins to trust you. Once that happens, Juno will come and sit on your lap, while Janie navigates the surroundings. A quiet household would be the best, with children who are over 12. Cats are okay. Juno and Janie may remain skittish about some things, but not you! Having lived in our outside pen for many years, they would need some practice at being inside, but our short stays inside here at the sanctuary suggest that is not a big issue. They might need some help at housetraining, too. You will have a bundle of love when you adopt these two!
Fall 2023 Update: Our silly, playful girl Juno is being the most mischievous girl as a hound can get! Juno is still acting like a major Houdini as she overnights in The Scratching Post kitchen area. She's smart. Just saying. She's now figured out how to manipulate kid locks on cabinets! Bungees too are flying off secured cabinets and or bins. She's opening cabinets below the center island, walking through the island and then exiting on the opposite side to hang out in "forbidden territory." LOL. Along with this sneakiness comes violated bags of dry food, ravaged garbage cans and the worst part is her bathroom zone is no longer contained! We continue to try and thwart her sneakiness but at least for now, truth be known, she's kind of winning this game. Her bestie Janie who shares this overnight space is an innocent bystander and will never rat out on her friend. We're nonetheless honored to have them under our care and both are healthy as oxen! We'll enjoy fitting both girls for their winter coats and watching them partake in the fall leaf color show. You go girls.