MAVERICK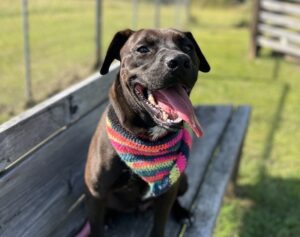 01/01/2018
08/13/2022
Male
Large : Larger than 45 lbs.
Lab Mix
Lab Mix; Sleek very dark brown coat. White blaze on chest. About 50lbs.
HISTORY: Maverick arrived as a stray at a high kill shelter. When space became an issue, we spoke up for him.
EXTRA NOTE: No cats for Maverick please but other dogs are welcome in his world.
Meet All-American labby boy Maverick! If you have not already heard, Maverick's pseudo name is "Giggles with gusto!" Maverick is one happy, playful, interactive guy. Dressed for success in a very dark coat…it's almost a very dark brown vs black, he is sleek and athletic and boy does he love showing his humans some TLC. A master hugger and kisser and nicely asking for some belly rubs, Maverick, like any self respecting labby, is a bit of a busy body in search of a good time. Maverick could not wait to meet our youth volunteer and without doubt, it was a mutual feeling of love at first sight. Maverick found a true soulmate in one of our doggy residents as the two of them ran in circles playing together. Maverick is the real, playful deal who can't wait to broaden his circle of friends. A more active home with a doggy playmate or 2 would surely suit his silly, goofy pet style. Get in on the fun by bringing home Maverick today.
More about me: MAVERICK has all the Perfect Pet boxes marked off. Friendly, loving and engaging. Check. Good with other dogs. Check. Good with slightly older kids. Check. Not too needy or clingy and can self entertain. Check. During a recent photo time, Maverick was a super star, once again. For his initial leash meetings with other dogs, Maverick is such a silly goofball that at times he would simply drop down, roll around on the grass and wiggle his legs in the air while the other doggy wondered what happened to their nicely paced walk. LOL He did a great job off leash mixing and mingling with both male and female dogs and always took the time to check in with his new human friends. An affectionate and very loving doggy, Maverick enjoys leaning and leaning into you while you scratch his belly and back area. Be on the lookout for some sneaky, darting kisses while in this position as well. Maverick thrives if he's in the thick of things and would love to be part of the daily family routine/activity. The more you can book his days to be a part of your life, the more you will wonder why he has not already gone home. Please get a move on and check out Maverick today. What a catch he is!