MIA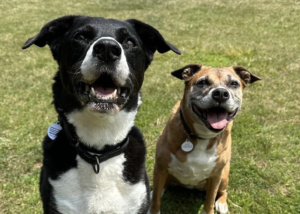 02/01/2011
10/04/2022
Female
Medium : 20 - 45 lbs.
Boxer Mix
Boxer Mix; Sleek tan coat; Black and white frosting around muzzle. 39lbs
HISTORY: Mia arrived as a stray puppy in 2011. She was adopted out shortly after her arrival. She and her best friend Parker were returned on October 4, 2022 when the family could no longer care for them. Mia and Parker are in search of a home together to live out their golden years.
More about us:
If you find yourself without a dog companion and are open to providing a loving home for two senior dogs, we highly recommend you consider Mia and Parker. While folks may balk at adopting two dogs we can assure you these two girls may be the ones to change your mind! They are connected at the hip and are truly best of friends.
Mia and Parker have had their lives turned upside down after living in a home for over 10+ years. When family dynamics changed, they needed to find another living option. Mia was adopted from the sanctuary as a puppy back in 2011. The same family adopted Parker through one of our courtesy listings when Parker needed new living arrangements. When Mia was being returned there was no way we were going to separate these two besties!
The girls are pros at going with the flow and have seamlessly transitioned into being at the sanctuary. Both are residing in Mary's office with access to a small outside patio.
Very housetrained – no accidents from either of them inside.
Not destructive – though if enticed by an easy-to-snag food source, they may take advantage of the situation!
Mia loves stuffed toys and often will greet visitors to the office with one in her mouth hoping she can convince the visitor to join her in a brief tug-of-war game. Parker enjoys tennis balls.
Other than they need a teeth cleaning, we have not seen any major health concerns.
Both Mia and Parker are affectionate with humans and each other. They love their soft beds as well as the Kuranda beds on their outside porch.
Both dogs have some pep to their steps and would be wonderful walking partners.
Both dogs are fine around cats – and probably other dogs as well though we have not formally introduced them to other dogs yet.
Volunteer Thought:
Better Together! You will only need to spend a few minutes with our senior delights MIA and PARKER to quickly see that they totally adore each other, act like each other's shadow and are honestly, better together. Having spent almost their entire 10 yrs of life together, this senior couple has not missed a beat in transitioning from their prior home to "working" in our main office area.
Not all doggies can pull off and master this position as it requires immediate tail wags and smiles to all who come in. You are on your feet a lot during the day as you will have many folks to greet and each person is equally as deserving of a hearty but always polite, "Welcome. Please come in." When not working in our office area, both ladies are always up for a good walk. They are very skilled in this area and really enjoy getting some fresh air, checking out new sights and of course, sniffing new smells. Although they are seniors on paper, don't be totally fooled by their ages as they still have a bit of silly, goofy, playfulness in them! Off leash in one of our play yards, Mia was busy trying to drag a large heavier ball around with an attached rope. You go girl! Meanwhile, Parker was busy wiggling her legs in the air, sliding around on her back and then slowly mozeying around. Both girls are very tuned into their humans and are always good for some hugs and kisses and just overall general soft, snuggly loving sessions. These girls have never met a stranger and are so much fun to have by your side. Super friendly and loaded with happy, feel good vibes, they were a hit as soon as they arrived at our Sanctuary.
It's hard to not be smitten with this incredible pair of senior sweethearts. More than one volunteer had commented that if they did not already have a full pet inventory, this pair would already be in their home. If you are looking for move-in ready, super skilled pets who know how to get the pet job done, at the top of your candidate list should be the names of Mia and Parker! Please ask for this loving pair today!
Extra Detail from their home:
Mia has been a great dog for our family over the last 12 years. Her favorite pastimes are playing tug and basking in the sun. She will fetch for you once, but steals the ball and never gives it back. Although she is 12, she has the heart of a puppy and has nothing but love to give. She is well behaved around children and gets along with other dogs but has not been around cats or other animals. She has grown up with her sister dog Parker for 11 years and has definitely enjoyed having a partner in life. She is spayed and in good health. She is house and leash trained, although she prefers to run around in a fenced yard.