PRINCESS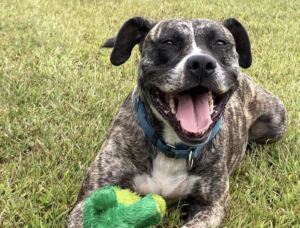 03/01/2017
09/03/2020
Female
Large : Larger than 45 lbs.
Bully Mix
Bully Mix – brindle with white boots and blaze on chest. 60lbs
Arrived with 6 puppies (Fiona, Hans, Merida, Ariel, Aladdin, Aurora) – Now all rehomed!
HISTORY: Surrendered when her family couldn't take care of puppies.
Mom to the Disney Puppies, Princess is well loved by everyone who meets her. She was even chosen as a 'Staff Pick'. Princess' age is unknown, but she's most likely two or three. Many are struck by just how much Princess loves people. Her trademark happy whine can be heard whenever staff members approach her pen. Her go-to move when someone comes to visit is to stand on her hind legs and gently wrap her front paws around the nearest person to give them a hug. Without a litter of puppies to worry about, Princess has seen a surge in energy and playfulness. She loves fetch and will happily chase ball after ball before rolling over for some well-earned belly rubs. The entire staff has fallen in love with this sweet girl and we think you will, too!
A Word from Princess
"Can you see my beautiful coat? Aren't I gorgeous? Come see me, and I will wrap you with love! Pay attention to me, and I am your best buddy! I might be a bit much for a small child, but I would be fine with older children that could handle my hugs! I love to go for walks, and I love any attention you give me. Staying in this pen is so hard for me, because I want everyone to come see me, and I tell them so! But don't let my bark put you off; I love everybody!"
What Princess Needs in Her Home
Princess would be happiest where there is someone home most of the time, and possibly would love to have a family with older school age children to love on her. Her first introduction to cats suggested she would not be good with them, and another dog would also be introducing possible trouble. Princess needs ongoing work to understand the concept of loose leash walking, but she is smart and eager to please. With patience and guidance from her human she has star pupil potential! A couple of sessions with a trainer would provide a solid base from which to work! A fenced yard would be a must, as she loves to fetch and especially loves to run. Make Princess's day – give her a forever home! She will return your investment with interest!
Fall 2022 Update: "I have a new boyfriend," blushes our sunny faced lady Princess. For many, this should not come as any surprise as Princess is such a stunning lady and also super loving and affectionate. Nonetheless, her new friend is Larry, our Maintenance Manager, and the 2 of them just enjoy each other's company. Larry is an early bird person so it's not usual for him to be the first arrival at work. As the early bird, he will reach to get Princess outside from the inside kennel area so she can start her day. She is a devoted friend to Larry and is offended if Larry doesn't stop by during the day to greet her and scratch her ears. LOL. Certainly we don't want to ruffle our Princess's feathers so we are grateful for Larry's punctuality and his interest in this glamorous doggy! With no emerging health issues, Princess is looking forward to the fall leaf color display and cool temps.