SCOOBY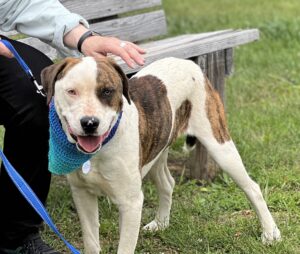 04/22/2022
05/19/2023
Male
Large : Larger than 45 lbs.
Bully Mix
Bully Mix; Short haired white coat with brown brindle spots. 51lbs
HISTORY: Rescued from a high-kill rural shelter where he came in as a stray.
Scooby dooby doo, is this the pup for you?
Scooby is a 1.5-year-old Pitbull mix with a lot of love to give. If you are looking for a loving and affectionate dog, then Scooby is the pup for you! This sweet boy loves to give kisses and receive attention. He is very gentle when receiving "scooby snacks", and responds well to commands when encouraged with them. When he gets excited, he tends to give soft mouthy nibbles, so he will need a family that is willing to work with him on some of his manners. The good news is that he is easily distracted and is smart and eager to please. With patience and proper training, Scooby has the potential to be a very polite and top notch family companion.
Scooby has some energy to spare (especially when he is given the space to run), but once he gets on a leash, he relaxes and is a real treat to walk with minimal pulling. When Scooby was in his foster home, he showed himself to be calm and made himself very comfortable on his dog bed and playing with his stuffies. He was not destructive, and was able to last through the night without going potty while uncrated. His fosters were older, retired folks who found him easy to manage inside their home and found him to be a good companion for strolling their neighborhood which is loaded with other dogs. He can be a little shy at first when meeting new people, but warms up quickly to strangers and is friendly with other dogs he meets. When he has been around children in the past he has done well, although with toddler age kiddos, parental supervision and positive reinforcement training with Scoobie will be your best approach. This handsome boy would love nothing more than to have space to run, a cozy bed and a family to have him as part of the gang!
Will you be the Shaggy to our Scooby?